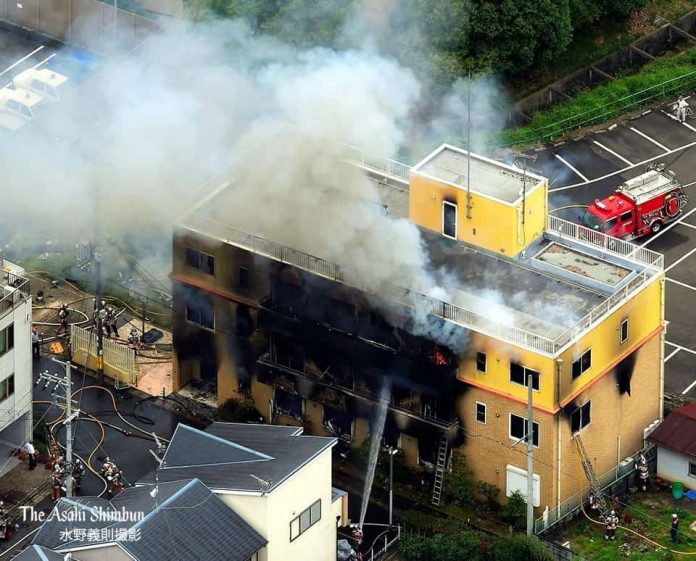 Actualización 32: Shinji Aoba, el autor del incendio en Kyoto Animation, podría salvarse de la pena de muerte por «enfermedad mental»
Actualización 31: Emitida nueva orden de arresto para Shinji Aoba, el autor del incendio
Actualización 30: Lista oficial de los nombres de 10 personas fallecidas.
Actualización 29: Todos los datos que se creían perdidos han sido recuperados.
Actualización 28: KyoAni comunica que seguirán trabajando en la industria del anime
Actualización 27: Shinji Aoba visitó los sitios que aparecen en Hibike Euphonium días antes del ataque
Actualización 26: Confirmada la muerte del director Yasuhiro Takemoto
Actualización 25: Un informe del cuerpo de bomberos revela que el edificio cumplía con todos los códigos de seguridad ante incendios.
Actualización 24: Confirmada la muerte de Naomi Ishida, encargada de coloreado de varios animes de KyoAni
Actualización 23: Homenajes a Kyoani
Actualización 22: Una cámara de seguridad captó a Shinji Aoba días antes del ataque
Actualización 21: El presidente de KyoAni planea demoler lo que queda del edificio y construir un monumento en su lugar
Actualización 20: Fotos del estado actual del estudio de Kyoto Animation despues del fuego
Actualización 19: Un empleado que sobrevivió al incendio en KyoAni cuenta su experiencia
Actualización 18: Información de la situación del personal que se encuentra en el hospital
Actualización 17: Historias de KyoAni antes y después del incendio
Actualización 16: El presidente de Kyoto Animation habla sobre los daños sufridos tras el incendio.
Actualización 15: Crunchyroll inicia una campaña para llevar mensajes de apoyo de los fans a Kyoto Animation
Actualización 14: La ciudad de Ogaki (ciudad usada para la pelicula Koe no Katachi) está recaudando dinero para ayudar a KyoAni
Actualización 13: Identificado el autor del incendio del estudio KyoAni: Shinji Aoba de 41 años.
Actualización 12: el crowfundig ha llegado al millón de dolares.
Actualización 11: más detalles del ataque:
El criminal, aún sin identificar, arrojó lo que parece ser gasolina a la entrada del primer piso del estudio de Kyoto Animation.
Luego prendió fuego al líquido, provocando un incendio explosivo, según testigos, el hombre gritó "¡Muere!
La policía dice que había 74 personas en el edificio a la hora del asesinato.
El fuego fue contenido 5 horas después de que comenzó.
La policía dijo que muchos cuerpos fueron encontrados uno encima del otro en una escalera que va desde el tercer piso hasta el techo, la gente trató de ir al ático pero no pudo.
El criminal escapó de la escena del crimen, pero fue capturado por la policía a unos 100 metros del estudio al final del día.
La policía aún no ha interrogado al hombre porque necesitaba ser tratado en un hospital por las graves quemaduras que sufrió, por lo que mejorará para que comience el interrogatorio.
El hombre nunca trabajó en Kyoto Animation, no sabe qué tipo de conexión tiene con el estudio.
Se descubrieron latas de gasolina, cuchillos de cocina y un martillo cerca del estudio, la policía sospecha que pertenecen al criminal.
Ahora, por la noche, deberían aparecer más detalles.
Actualización 10: Aki Toyosaki, seiyuu de Yui en K-ON!, lloró en vivo al conocer la noticia del incendio en el estudio de KyoAni
Actualización 9: el crowfundig ha llegado a los 872 mil dolares de los 500 mil que se pedía inicialmente.
Actualización 8: Un post en 2chan hecho en la mañana del día del crimen está posiblemente relacionado con el criminal, él posteó en el foro que aparecería en las noticias de hoy.
Actualización 7: KyoAni anuncia la cancelación de la pelicula de Free!
Actualización 6: Yasuhiro Takemoto, director de Lucky Star, Maid Dragon, Hyouka, entre otros, se encuentra desaparecido después del incendio
Actualización 5 – 15:34pm*:  las labores de rescate han terminado. Cada persona y cuerpo que estaba en el edificio del Estudio de Animación 1 de Kyoto hoy ha sido encontrado.
Actualización 4 – 14:55pm*: el numero de fallecidos se eleva a 33. 12 hombres, 20 mujeres y 1 desconocido. Otras 36 personas están heridas en el hospital.
Actualización 3 – 14:46pm*: el numero de fallecidos se eleva a 33
Actualización 2 – 13:47pm*: no es una actualización de la situación, pero el presidente de Kyoto Animation, Hatta-san reveló que hace unos años KyoAni recibió muchas amenazas de muerte, que pueden o no estar relacionadas con el incendio provocado de hoy.
Actualización – 13:36pm*: el numero de fallecidos se eleva a 25
(*) Hora española
**NOTICIA EN CONSTANTE ACTUALIZACIÓN**
[La noticia original comienza a partir de aquí]
El pirómano afirma que Kyoto Animation "robó el trabajo de otras personas".
El estudio de anime Kyoto Animation, la compañía detrás de numerosos éxitos como The Melancholy of Haruhi Suzumiya, Lucky Star, Clanaad, K-On! y Free! tiene una planta de producción, designada Studio 1, en la sala Fushimi de Kyoto, cerca de la estación de Rokujizo. En la mañana del 18 de julio, alrededor de las 10:30, un hombre entró a Studio 1 y comenzó a verter un líquido, que se cree que es gasolina, alrededor de las instalaciones. Los testigos informan que el hombre gritó "¡Muere!" mientras lo hacía, y luego prendió fuego al líquido, causando un incendio y una fuerte explosión.
El incendio se extendió rápidamente por todo el edificio de tres pisos, donde trabajaban aproximadamente 70 empleados en ese momento.
Vídeo del fuego
Un testigo dijo que el sospechoso gritaba "muere" mientras encendía el fuego.
Testigo:
"Alrededor de las 10:30 estaba en mi oficina y oí una explosión y un ruido de explosión, salí y vi salir fuego del segundo y tercer piso.
Un comerciante cercano dijo:
"Escuché a una joven gritando:'Un extraño esparció combustible y lo encendió, ayúdenos'.
La directora Naoko Yamada está a salvo, no estaba en el edificio en el momento del incendio.
El personal del Estudio 2 está bien.
Según el portal de noticias del periódico Kyoto, la gente se quemó gravemente y salió corriendo del edificio cubierto de fuego.
Aproximadamente 30 camiones de bomberos fueron enviados para combatir el incendio, pero tres horas después, el fuego seguía ardiendo. Al menos tres docenas de víctimas han sido enviadas al hospital, con 12 muertes ya confirmadas, y los trabajadores de rescate esperan que el número de víctimas mortales aumente aún más.
アニメ会社で火事 けが人多数か "ガソリンまいたか" 京都https://t.co/dekElcwrhE#nhk_news #nhk_video pic.twitter.com/TNeEksWoLX

— NHKニュース (@nhk_news) 18 de julio de 2019
Según Kyodo News, 10 personas fueron encontradas tiradas en el segundo piso, todas se presumen muertas.
京都府警によると、スタジオ火災で、建物2階に約10人が横たわった状態で見つかった。死亡しているとみられ、救急搬送しない。 https://t.co/FIKRVyHxcy

— 47NEWS 速報 (@47newsflash) 18 de julio de 2019
Los residentes que vivían cerca afirmaron que escucharon una explosión desde el primer piso del edificio y luego vieron que el humo comenzaba a elevarse; el hombre responsable de esparcir el fluido parecido a la gasolina ha sido capturado y admitió que causó el incendio.
京アニ第1スタジオが燃えてる pic.twitter.com/zVtP6STGMn

— ヤノパイセン (@mipyong1) 18 de julio de 2019
Video del incendio
空撮動画で気付いたけど、もしかしてこの5本の長い何かが「複数の刃物のようなもの」か?犯人が持ち込んだものなら、当初から大量殺人を企図していたとしか思えない。無茶苦茶だ!#京都アニメーション pic.twitter.com/OCaP5RHiNq

— ガクブル (@gackbull) 18 de julio de 2019
Investigadores que examinan lo que parecen ser cuchillos del presunto pirómano.
Los testigos dicen que cuando la policía le preguntó en la escena por qué había prendido el fuego, el hombre dijo "Hicieron pakirui". Pakuri es la palabra japonesa para copiar el arte o el trabajo creativo de otro, aunque la naturaleza indistinta del idioma japonés hace que no esté claro si el hombre acusaba a Kyoto Animation de copiar su trabajo específicamente, o el de otro creador/creador.
El pirómano había sufrido lesiones cuando fue detenido, y también fue transportado a un hospital para recibir tratamiento médico, aunque los testigos informan de que le dijo a la policía: "He esparcido gasolina por todo el estudio. Lo encendí con un encendedor."
Además de los empleados de Kyoto Animation que han sufrido lesiones o perecido, varios trabajadores siguen desaparecidos.
Por otra parte, los fans de todo el mundo han ofrecido su apoyo y condena a esta tragedia.
En Twitter han creado el hashtag #PrayForKyoani para mostrar tanto sus condolencias como mensajes de apoyo y condena.
Por otra parte, Sentai Filmworks ha creado una campaña crowfunding para ayudar a KyoAni ante este desastre. La meta son 500 mil dolares y por el momento han recaudado un poco más de la mitad.
Fuentes: Yahoo News JP – NHK News