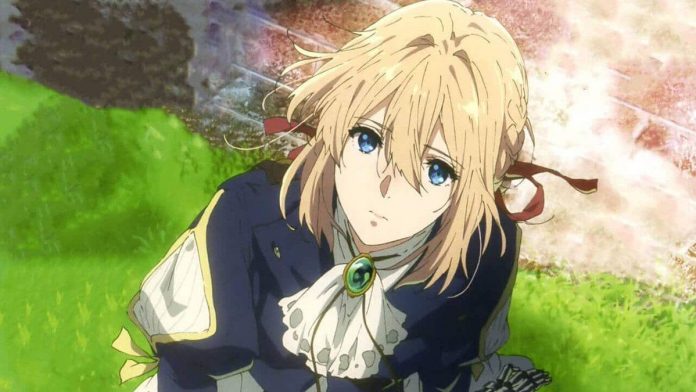 Desde la tragedia de Kyoto Animation, fans, personalidades y compañías han estado honrando a Kyoto Animation y dando fuerza al estudio.
A continuación se presentan algunos ejemplos de apoyo.
Las fotos de abajo están cerca del lugar de la tragedia:
Los aficionados dejan flores y rezan por los muertos y heridos
A continuación hay algunos ejemplos más de cómo los fans honran y dan a KyoAni la fuerza que pueden:
地方からアニメを発信したい我々にとって、京都アニメーションさんは憧れであり、大きな大きな目標です。

今回の事件に負けず、これからも素晴らしい作品を作り続けて下さい。

本日参加頂いた皆さんと共に、エールを送らせて頂きます。#prayforkyoani pic.twitter.com/JiU44GelZt

— ?アニメ「シキザクラ」【公式】? (@ShikizakuraA) 21 de julio de 2019
京都の伏見稲荷で聞き覚えのある曲聞こえるなと思ったら

尺八と三味線でけいおんの「Don't say "lazy"」演奏していて泣いたわ

京都で今この曲が聴けるなんて…#京アニ#PrayForKyoani pic.twitter.com/e2vXduNREN

— くにおちゃんP (@zero765hibiki) 21 de julio de 2019
La escuela local de K-ON rinde homenaje a KyoAni
La escuela Toyosato, que sirvió de escenario para el anime de K-ON, rindió varios homenajes al estudio, uno de los cuales es la imagen de arriba, una imagen de uno de los lugares "sagrados" para los aficionados al anime. Otro tributo fue el de abajo:
7月21日豊郷小講堂に於けるけいおん!ファン有志による黙祷。 pic.twitter.com/dsTdN5SEA1

— うさぎ山大バザール4拡散部 (@tamaket_kyoto) 21 de julio de 2019
Gente rezando por lo que pasó en la escuela.
Además, gente famosa y compañías hablaron de lo que pasó:
Tim Cook, CEO de Apple
Kyoto Animation is home to some of the world's most talented animators and dreamers — the devastating attack today is a tragedy felt far beyond Japan. KyoAni artists spread joy all over the world and across generations with their masterpieces. 心よりご冥福をお祈りいたします。

— Tim Cook (@tim_cook) 18 de julio de 2019

"Kyoto Animation es el hogar de algunos de los más talentosos animadores y soñadores del mundo, el devastador ataque de hoy es una tragedia mucho más allá de Japón. Los artistas de KyoAni difunden la alegría por todo el mundo y a través de generaciones con sus obras maestras".
Embajada de Bélgica en Japón
Together with our Belgian animation heroes, we mourn with our Japanese friends and offer our sincere condolences to the relatives and loved ones of those killed in the tragedy at #KyotoAnimation, while wishing speedy recovery to those injured. pic.twitter.com/IFbVsw9uhv

— Belgium in Japan (@BelgiumEmbJapan) 19 de julio de 2019

"Junto con nuestros héroes animados belgas, lloramos con nuestros amigos japoneses y ofrecemos nuestras sinceras condolencias a los familiares y seres queridos de aquellos que murieron en la tragedia #KyotoAnimation, deseando a los heridos una pronta recuperación".
Primer Ministro de Canada
Canadians send our deepest condolences to the families of those killed in the arson attack in Kyoto that has taken so many innocent lives. To the people of Japan – we're mourning these tragic losses with you, and wishing a quick recovery to everyone who was injured.

— Justin Trudeau (@JustinTrudeau) 18 de julio de 2019

"Los canadienses envían nuestro más sentido pésame a las familias de las víctimas del incendio provocado en Kioto, que ha causado tantas vidas inocentes. Por el pueblo del Japón, lloramos con usted estas trágicas pérdidas y le deseamos una pronta recuperación para todos los que resultaron heridos.
Toei Animation
Your works have brought so much joy to the world. You have our thoughts and our hearts. We can't wait to see you back again. #PrayForKyoaniが世界に拡散 pic.twitter.com/KD0Z8GO1Kk

— Toei Animation (@ToeiAnimation) 19 de julio de 2019

"Tus obras han traído mucha alegría al mundo, tienes nuestros pensamientos y corazones, no podemos esperar a verlos de nuevo".
Nickelodeon
Taking a moment to remember the incredible talent we lost this morning at Kyoto Animation. Our hearts go out to their loved ones. ? #PrayForKyoAni

— Nickelodeon Animation (@NickAnimation) 18 de julio de 2019

"Tomando un momento para recordar los increíbles talentos que perdimos esta mañana en Kyoto Animation, nuestros corazones van con los que son amados".
Aniplex
We wish to extend our sincerest condolences to all those affected by the KyoAni tragedy. #PrayForKyoani

— Aniplex USA (@aniplexUSA) 18 de julio de 2019

 "Deseamos expresar nuestro más sentido pésame a todos los afectados por la tragedia de KyoAni".
"A todos los que murieron en el incendio de Kyoto Animation, les deseamos que se vayan en paz y queremos expresar nuestras sinceras condolencias a los que están sufriendo. Además, estamos orando sinceramente por la pronta recuperación de todos los que han sido heridos. Apoyaremos todos sus esfuerzos como socio de producción de animación".
Anime Anime (sitio de noticias)
"Queremos expresar nuestras sinceras condolencias a los empleados heridos y a los que están de luto. Además, oramos por la pronta recuperación de aquellos que aún están en tratamiento. Las víctimas, sus familias y sus parientes… aunque las circunstancias de la situación aún no están claras, lo único que podemos hacer ahora es expresar nuestro amor por Kyoto Animation. Así que creemos que debemos compartir la declaración de que los apoyaremos para siempre.
Gracias por todo su gran trabajo. Amamos y seguiremos amando Kyoto Animation. # PrayPorKyoani"