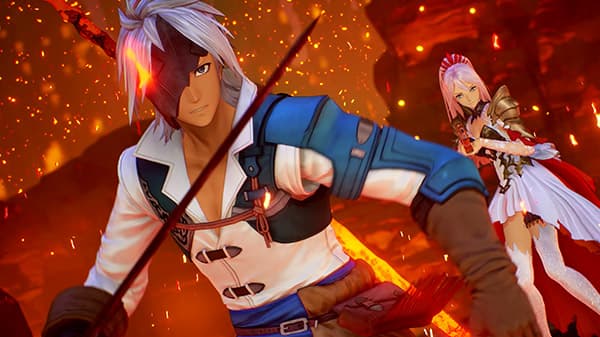 Bandai Namco estrenó un nuevo trailer de Tales of Arise durante el evento "Tales of Arise Special Stage" en el Tokyo Game Show 2019.
El trailer presenta a los personajes revelados anteriormente Alphen y Shionne, pero muestran a un misterioso nuevo personaje al final:
También se compartieron algunos datos nuevos durante el evento de la etapa:
La Fuerza Astral es una energía que reside en toda vida y en todas las cosas.
La gente de Rena puede usar Astral Artes, que es una magia que utiliza la Fuerza Astral. Los ojos del usuario brillan cuando utiliza Astral Artes.
La Espada de Fuego que Alphen esgrime es un poder manifestado por la Fuerza Astral. Como la espada quema al portador, sólo puede ser usada por Alphen, que no siente dolor.
Aquí están los detalles, a través de la página web oficial del juego:
Alphen (voz de Takuya Satou)
Del planeta Dahna. Un joven que lleva una máscara de hierro y perdió el dolor y la memoria. Animado por su encuentro con Shionne, toma en sus manos la "Espada de la Llama" y se lanza a la batalla por la libertad de Rena.
Shionne (con voz de Shino Shimoji)
Del planeta Rena. Una chica maldecida por "espinas" que causan un dolor intenso a cualquiera que toca. Ella une fuerzas con Alphen con un propósito oculto y lucha en rebelión contra su propio pueblo de Rena.
Tales of Arise estará disponible para PlayStation 4, Xbox One y PC en 2020.