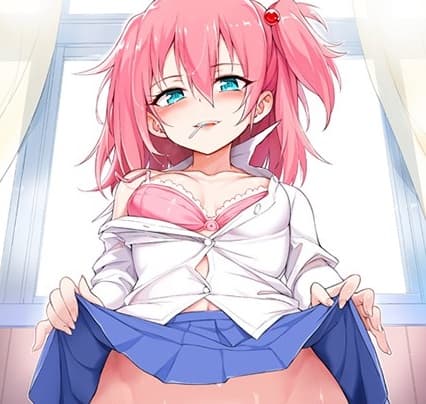 Siguiendo con la tradición de hacer una lista de los mejores hentai del mes pasado, ahora le toca a noviembre 2019. Si te perdiste la del anterior mes: Los 5 mejores hentai de octubre 2019
Como siempre, puedes cada hentai dándole click al titulo o a la imagen.
Episodios: 6
Transmitido: Mayo 2018 – En curso
Daisuki está feliz con su vida en el apartamento porque tiene sexo con la pequeña casera Mayuri… siempre y cuando pague su alquiler a tiempo, por supuesto. De todos modos, es el día de pagar el alquiler y Mayuri llega a la habitación de Daisuke a tiempo. Esta vez, sin embargo, Mayuri sabe que es el cumpleaños de Daisuke y para mostrar su aprecio a su inquilino número uno (el único inquilino), Mayuri le va a hacer un "pastel".
El episodio 5 de Dokidoki Little Ooyasan es más de lo mismo, así que si esperas algún giro o un cambio de ritmo, bueno, no lo vas a conseguir aquí. Ser más de lo mismo no es exactamente algo malo porque si estás viendo Dokidoki Little Ooyasan únicamente por la loli, entonces el episodio 5 cumple.
A estas alturas de la serie, deberíamos decir que el aspecto femenino de Dokidoki Little Ooyasan es la mejor parte. Normalmente, los lolis tienden a ser pequeñas y más manejables de lo habitual, así que son inmovilizadas y violadas brutalmente o son los tipos sumisos durante el sexo porque sus parejas son dos veces más grandes que ellos.
Hay excepciones, por supuesto, y Mayuri es una de esas excepciones: puede tomar el control y puede durar más que un gorila musculoso como Daisuke. Pero sí, el episodio 5 de Dokidoki Little Ooyasan es otro gran episodio.
Episodios: 1
Estreno: Noviembre 2019
El maestro de escuela y consejero de orientación Tanaka está con la problemática Endou Aina en la Oficina de Orientación por una infracción escolar no especificada que cometió. Sin embargo, las cosas se vuelven sexuales cuando Aina le pregunta si Tanaka es virgen y si realmente lo es, Aina estará más que feliz de ayudarlo a perderlo.
No hay mucho que decir sobre Lovely Heart porque la historia es muy sencilla, pero la presentación es digna de mención. La historia se divide en dos partes con una interpretación de una canción a mitad del episodio de nuestra heroína Aina… que, admitámoslo, es muy linda y proporciona un contexto de por qué Aina está enamorada de Tanaka-sensei.
La primera parte se desarrolla desde la perspectiva de Tanaka. Él ve a Aina como una chica promiscua y pierde toda razón después de que su lujuria se apodera de ella. La segunda parte se desarrolla desde la perspectiva de Aina. Su personalidad de zorra es sólo una fachada, es virgen y está enamorada de Tanaka, y la historia termina en un tono dulce que se abre a una posible secuela. Sin embargo, en su estado actual, Lovely Heart es un gran hentai de vainilla y está animado por New Generation, el mismo estudio conocido por su admiración por lolis (Toshi densetsu Series y Shoujo Ramune). Gran sexo, hermosos diseños de personajes y todo está bien animado, no te equivocarás con Lovely Heart.
Episodios: 1
Estreno: Noviembre 2019
Kouta termina quedándose en la casa de su amiga de la infancia, Aki, después de que la madre de Kouta pusiera su casa a reparar y dijera que la madre viaja al extranjero con su padre. Sin opciones, Kouta se queda en la habitación de Aki hasta que su casa esté arreglada. ¿Es este un giro muy desafortunado para Kouta y Aki? o es una estratagema de sus padres que quieren que estén juntos como pareja?
La historia de Aibeya The Animation es simple: un chico termina viviendo bajo el mismo techo que la chica, se enamoran y los dos terminan teniendo sexo. Pero lo que hace que el espectáculo sea genial es la presentación sana, sin indicios de abuso sexual, violación, manipulación, muy buen desarrollo de los personajes, sexo que no implica ninguna acrobacia loca, y un reparto de apoyo que, bueno, en realidad apoya a los personajes con su relación. Pero lo mejor de Aibeya The Animation son sus escenas de sexo de vainilla, que son de una calidad engañosa: los cuadros de animación adicionales hacen que las escenas se sientan diferentes. Si disfrutaste de Aikagi The Animation a partir de agosto de 2019, definitivamente te encantará esta. Por último, este OVA dura unos 26 minutos, por lo que tienes un montón de escenas de sexo con las que jugar y disfrutar.
Episodios: 1+
Estreno: Noviembre 2019 – En curso
Los semi-humanos y los humanos han resuelto sus diferencias y las dos razas están coexistiendo en armonía. Amano Taichi, un típico estudiante de secundaria que siente algo por las chicas demi y coquetea con ellas en la escuela todos los días con la esperanza de conseguir una novia demi-humana. Siempre fracasa porque no le gusta a las chicas demi, pero hay que darle apoyo al chico por intentarlo de verdad. Un día, Taichi se tropieza y se besa los labios con Aoe Kuon, la chica demi más popular de la escuela. El accidente causa algunos cortes menores en sus labios, pero no es nada serio, así que los dos van por caminos separados.
O eso parece, Taichi se ha puesto muy enfermo después del incidente y ha estado postrado en cama durante una semana, pero al final se recupera completamente. En la escuela, Taichi nota algo extraño con todas las chicas demi: están adulándolo por alguna razón. Taichi pronto descubre que sus fluidos corporales se han convertido en una especie de esencia estimulante después de que la sangre demi-humana de Kuon se mezclara con su sangre humana durante el accidente. Su presencia despierta a las chicas demi a su alrededor y, bueno, ¿qué más hará nuestro héroe después de que se convierta en un afrodisíaco literalmente andante?
Interesante premisa, chicas demi, hermosos diseños de personajes, animación de alta calidad, y escenas de sexo de alta calidad cortesía del estudio Seven, El episodio 1 Love x Holic: Miwaku no Otome to Hakudaku Kankei  The Animation es una hermosa obra e instantáneamente uno de los títulos favoritos que ha salido en noviembre.
Sí, Love x Holic: Miwaku no Otome a Hakudaku Kankei The Animation OVA 1 es así de jodidamente bueno. Esperemos que el episodio 2 sea aún mejor y tenga más demi chicas.
Episodios: 6
Estreno: Abril 2018 – Noviembre 2019
Nuestra historia continúa con Rinka dedicando su tiempo a la prostitución, entregando su cuerpo a los deseos perversos de sus clientes. Un día en particular, Ryuuji le dice a Rinka que hay un cliente esperándola en el dormitorio, y Ryuuji le promete a Rinka que se la cogerá toda la noche como recompensa por un trabajo bien hecho. Es un poco sucio follarse a una chica después de que alguien ya haya entrado en ella, ¿no crees? De todos modos, al llegar al dormitorio, Rinka se queda estupefacta al ver quién es su próximo cliente: su padre.
Ore ga Kanojo o *su Wake está lleno de sorpresas con un final que es más… más… cuál es la palabra… "chocante" que el final de Taser-to-the-Balls de Jitaku Keibiin (2019) episodio 2. Ryuuji ha corrompido completamente tanto a Rinka como a la madre Haruka, y ambas chicas prácticamente no funcionarán sin conseguir la polla de Ryuuji. Para las chicas, tener sexo con Ryuuji es tan esencial como respirar aire. Rinka continúa vendiendo su cuerpo a extraños al azar en la casa de Ryuuji o en las calles a cambio del afecto de Ryuuji y, bueno, del privilegio de chuparle la polla. Cuanto más dinero trae Rinka, más amor recibe a cambio. Haruka, por otro lado, lo tiene fácil siendo el fucktoy personal de Ryuji 24/7.
Entonces, ¿cómo terminó Ore ga Kanojo o *su Wake? Bueno, no es bonito y creemos que es mejor que lo veas y lo averigües. Drogas, NTR, corrupción de la mente, prostitución, esclavitud, algo de tortura, y degradación de la moralidad, Ore ga Kanojo o *su Wake es un infierno de anime hentai que todavía recomendamos a cualquier fanático de hentai que lo vea.
Este fue el Top 5 Hentai de noviembre de 2019. Love x Holic: Miwaku no Otome to Hakudaku Kankei The Animation y Aibeya The Animation son muy buenos títulos nuevos y están entre los muchos títulos de hentai anime con el potencial de ser parte de los 10 mejores Hentai Anime de 2019.
Los nuevos episodios de Ore ga Kanojo o *su Wake y Dokidoki Little Ooyasan fueron inesperados, pero siguen siendo una bienvenida adición a una ya gran serie.
Así que, ¿qué piensas de la lista y qué opinas de los títulos de hentai anime, especialmente Ore ga Kanojo o *su Wake? Como siempre, por favor deja lo que tengas en mente en la sección de comentarios abajo!