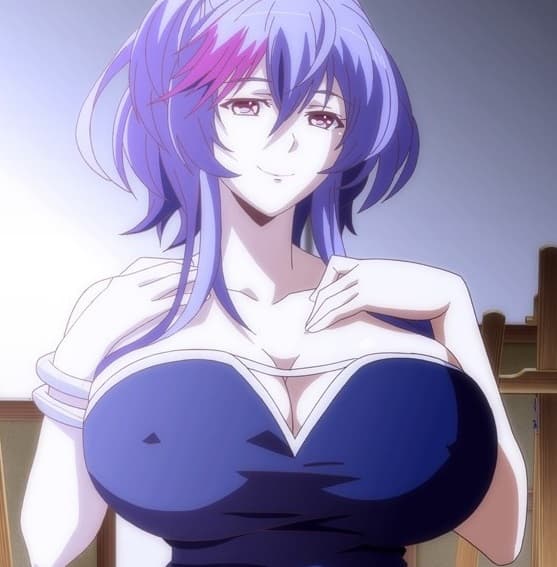 Para disfrutar de los títulos, ya sea online o descargándolos, dale click al titulo o a la imagen.
Sé que ya estamos en noviembre de 2019, pero antes de empezar con los hentai de este mes, no podía dejar pasar los grandes estrenos del mes pasado. Así que aquí están los 5 mejores Hentai de octubre 2019
Antes de empezar, si no sabes cuales son los próximos estrenos hentai que vienen, puedes ver la lista siempre actualizada aquí: Próximos estrenos hentai 2019-2020
Episodios: 1 (En emisión)
Estudio: Pink Pinkeapple
Nuestro héroe anónimo vive actualmente en una residencia universitaria junto con tres encantadoras damas como una forma de rehabilitación sugerida por su médico. Y para mantenerse al día con sus estudios y ser atendidas, las tres niñas, Momoka, Kasumi y Shiori, serán sus tutores durante toda su estancia. Y aparentemente, a estas chicas les gustan los tipos que son enfermos y vulnerables porque están locos por nuestro héroe enfermo.
Después de ver este hentai tres veces, creo que el nombre del héroe nunca fue pronunciado. Los héroes hentai sin nombre son comunes, pero normalmente, también son sin rostro y actúan como un medio para que los espectadores hentai calientes se autoinserten. Pero el héroe de Ecchi na Joshi Daisei a Doki x2 Love Lesson! tiene un rostro, así que uno podría asumir que no es sólo un personaje autoinsertado. De todos modos, el show es extremadamente vainilla por lo que las escenas de sexo no tienen ese toque de anime hentai, en general, tiende a tener, pero el estilo de arte es muy atractivo y ese es el único punto de atracción de Ecchi na Joshi Daisei a Doki x2 Love Lesson! The Animation. No hay mucho más que decir sobre este anime y si lo que buscas es un poco de diversión, aquí tienes.
---
Episodios: 3 (En emisión) (Cuarta OVA confirmada)
Estudio: Majin
Las fuerzas del rey demonio continúan su avance en el reino sagrado y el santo caballero Luvilias se interpone en su camino de nuevo. Sin embargo, el poder de Luvilias ha disminuido después de probar el placer del sexo y de ser violado por los orcos. ¿Se mantendrá Luvilias firme y repelerá a las fuerzas demoníacas o finalmente sucumbirá a la tentación y entregará su cuerpo al rey demonio?
Ochi Mono RPG Seikishi Luvilias ha hecho algunas cosas estúpidas, pero lo que no ha hecho es engañar a los espectadores. El episodio 3 finalmente nos dio alguna escena de acción de caballero santo como se anuncia y, para bien o para mal, la escena de sexo es de la variedad futanari. Y aparte de la eventual violación por parte del rey demonio, la segunda mitad del episodio vuelve para más violaciones de orcos y monstruos.
Si te gustan los orco gigantes electrificados y los monstruos tentáculos que ponen huevos, entonces, hey, Ochi Mono RPG Seikishi Luvilias los tiene. Y la mejor parte es que no tienen nada que ver con la historia principal y puedes saltarte esas cosas si quieres. En cuanto a la historia, hubo una especie de giro en el que el rey demonio no es realmente un mal tipo y sólo quiere a Luvilias para sí mismo y quiere mantener la carrera demoníaca en jaque. La historia debería cambiar de marcha en el episodio 4 y veamos qué tipo de futuro está construyendo el rey demonio.
También no podemos olvidar la ya inolvidable escena del pozo de semen
---
Episodios: 2
Estreno: Abril 2019 – Octubre 2019
En un pequeño y pintoresco complejo de apartamentos, las amas de casa satisfacen sus impulsos sexuales vendiendo sus cuerpos mientras sus maridos están fuera en el trabajo. La siguiente ama de casa encantadora de nuestro héroe es Furukawa Yuuko, de 31 años, de la habitación 207, y es toda una provocadora al dejar que el héroe se la folle entre las puertas.
Ano Danchi no Tsuma Tachi wa… The Animation es el equivalente en anime hentai de una película porno con una historia básica para crear el contexto, muchas acrobacias sexuales sudorosas y un elenco de mujeres extremadamente RELLENITAS con tetas más grandes que sus cabezas.
Este hentai no es para todos, especialmente para los que buscan chicas loli o de instituto, entonces Ano Danchi no Tsuma Tachi wa…. The Animation no es la que estás buscando. Pero si eres del tipo que ama el sexo hardcore y las MILFs, entonces no puedes equivocarte con Ano Danchi no Tsuma Tachi wa…. The Animation es absolutamente para ti.
¿Es este un aspirante al Hentai del Año? Dado que la última escena de sexo es un cuarteto, es probable que se cumpla con nuestro final de "último episodio es un episodio orgía".
---
Episodios: 2
Estudio: T-Rex
Kuroda Koutarou, el entrenador del club de lacrosse de Felias Girls Academy, está trabajando duro para ser la mejor entrenadora para estas chicas, y qué mejor manera de demostrar que él realmente se preocupa por el deporte que llevar a las chicas a la playa para un poco de entrenamiento de lacrosse. Aunque es cuestionable por qué Koutarou eligió una playa donde las parejas se besan e incluso tienen sexo al aire libre, pero oye, casi nadie en el club de lacrosse se molesta por ello. Bueno, excepto por Momoi, que sigue fantaseando con el sexo. Las fantasías húmedas de Momoi sacan lo mejor de ella y se desmaya bajo el calor y Koutarou la lleva de vuelta a la casa de huéspedes. Con los dos solos y uno de ellos siempre pensando en cosas lascivas, sólo hay un resultado posible en todo esto.
Nuestros temores se han hecho realidad, o al menos eso es lo que creemos que va a suceder: el episodio 3 no está listado para noviembre de 2019, diciembre de 2019, enero de 2020 o febrero de 2020. Si estos listados y noticias son correctos, la adaptación hentai anime de Joshi Luck! termina en el episodio 2. Una pena, pero al menos Momoi, la chica destacada del episodio 2, es una gran elección. Con sus fantasías y fluidos corporales al máximo, ya no puede diferenciar entre la realidad y la fantasía, y los dos terminan follando entre sí y Momoi piensa que todo fue un sueño húmedo. Koutarou se salva una vez más de ser expulsado de su trabajo.
---
Episodios: 5 (En emisión) (Sexta OVA confirmada)
Estudio: Suzuki Mirano
La última vez que lo comprobamos, Ryuuji le robó la familia a su hermano y tanto Rinka como su madre, Haruka, se han convertido en esclavas sexuales. Pero hagamos una visita a la casa Ooki y veamos qué están haciendo, ¿de acuerdo? Rinka y Haruka se mudaron al apartamento de Ryuuji y sin señales del desafortunado hermano, los tres están muy contentos: dos mujeres cariñosas deseosas de tener esa polla gorda suya.
¿Esto fue… inesperado? Sí, Ryuuji finalmente consiguió lo que quería robando a la hija de su hermano y finalmente cogiéndose a la esposa, pero pensamos que era el final de la serie. Pero hay mucha gente que quería ver más acción de MILF, así que el estudio hizo nuevos episodios con la madre de Rinka, Haruka.
Así que de todos modos, el episodio 5 es muy bueno con el hentai conservando sus buenas imágenes y escenas de sexo vaporoso, aunque las escenas eran, digamos, insatisfactorias. El episodio 5 se centró demasiado en la acción de trío a un ritmo similar al de un montaje, por lo que las escenas se suceden demasiado rápido como para tener tiempo de volarte la cabeza.
Oh, y hubiera estado bien tener un tiempo en solitario entre Ryuuji y su madre, Haruka, para que pudiéramos tener alguna revelación o desarrollo del personaje sobre cómo Ryuuji amaba a Haruka en el pasado y luego tener la historia poco a poco hasta que Haruka se convirtiera en su esclava sexual. Rinka tuvo 4 episodios de acondicionamiento sexual intensivo para convertirse en la esclava de Ryuuji y Haruka sólo tuvo un episodio. ¿O tal vez Haruka ya es una puta? Quién sabe…
---
Octubre de 2019 ha sido un mes decente para los hentai, con una buena mezcla de volver más allá de los grandes, cosas de vainilla, cosas de hardcore y cosas que es algo en el medio. Noviembre está a escasos días de terminar así es hora de ir preparando el ranking de los mejores Hentai de noviembre.
¿Cual ha sido el que más has disfrutado este mes? ¿Crees que debería entrar alguno otro en la lista?