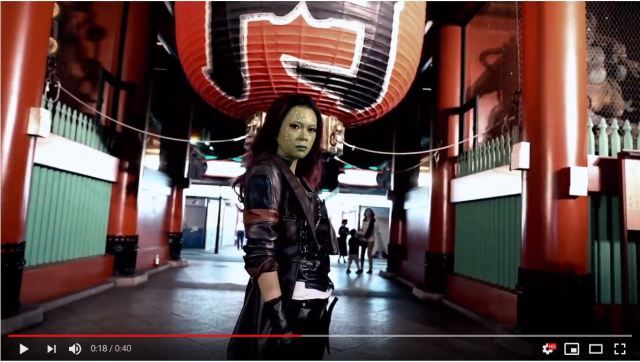 La feroz Guardián disfrutando de un descanso en Tokio
Sí, se preguntarán qué hace Gamora en Tokio, uno de los personajes principales de "Guardianes de la Galaxia". En realidad, es la cantante pop japonesa Yuki Koyanagi en cosplay. Las imágenes y vídeos las ha compartido tanto en Instagram como en YouTube.
¡Y el cosplay le ha quedado simplemente impresionante!
Las fotos publicadas en la cuenta Instagram de Koyanagi con el hashtag #ガモーラ観光シリーズ (Gamora sightseeing series) muestran a la cantante visitando lugares turísticos bien conocidos en Tokio, incluyendo la Torre de Tokio, el área de Asakusa y el área de Shibuya, todo en un genial cosplay de Gamora.
El maquillaje y el disfraz de Gamora, ejecutados con maestría, sin duda le dan un aspecto extraterrestre, se mezcla bastante bien con el paisaje de Tokio.
▼ Aquí hay una foto tomada en el barrio de Odaiba.
▼ Una foto con la Torre de Tokio al fondo es, naturalmente, una necesidad mientras se está de visita en Tokio.
▼ La icónica Puerta Kaminari (Trueno) frente al Templo Sensoji en Asakusa es otro destino turístico popular en Tokio.
▼ Y aquí está Gamora en la entrada del distrito de placer de Kabukicho en Shinjuku, famoso por sus brillantes luces de neón.
▼ También hay un video super cool del cosplay Gamora de Koyanagi titulado "Tokyo Sightseeing":
Como era de esperar, los fans han reaccionado a las fotos de Instagram con comentarios como "Soooo Gamora", "Always thought she looked like Gamora" y "Maybe the other Guardians will come to Japan to look for her".
▼ Aquí está Koyanagi en forma no-Gamora, cantando su canción "be alive".