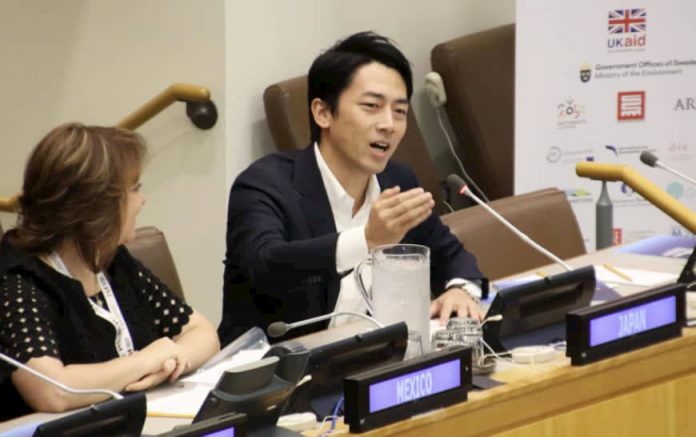 Japón tiene un nuevo Ministro de Medio Ambiente, su nombre es Shinjiro Koizumi, tiene 38 años y es hijo del 56º Primer Ministro de Japón, Junichiro Koizumi y hermano menor del actor Kotaro Koizumi.
Durante la reunión en la sede de la ONU, el político de alto nivel hizo bromas en inglés sin leer los comentarios preparados, donde prometió movilizar a los jóvenes para empujar a su país dependiente del carbón hacia un futuro bajo en carbono, haciendo que la lucha contra el cambio climático sea "divertida, legal y sexy".
A continuación se muestra el video de la declaración:
New Japanese Environment Minister Shinjiro Koizumi told reporters in New York that tackling climate change needs to be made "fun, cool and sexy." When pressed for an explanation, the son of ex-PM Junichiro Koizumi had nothing to add. pic.twitter.com/3aGSOF8ELa

— NHK WORLD News (@NHKWORLD_News) September 24, 2019

También hay otro vídeo que le muestra en silencio durante mucho tiempo pensando en qué responder cuando se le pregunta:
外国人『どうやって二酸化炭素や火力発電を減らしますか?』
小泉さん『・・・・』
関西のニュース番組はこのシーン放送されましたが、東京のニュース番組は取り上げない。
セクシーが話題にとか東京はズレてるよ。
こっちが資質に関わり問題でしょ。#小泉進次郎 pic.twitter.com/usS0kov89M

— 鳳凰院凶真 (@QJCPCli6XrM3sw6) September 23, 2019
Mucha gente lo criticó y las palabras que usó, además de ciertas actitudes como si fuera una especie de "ídolo", sucede que Shinjiro Koizumi es bastante popular en Japón, algunas personas incluso lo citan como el futuro sustituto de Shinzo Abe para el cargo de Primer Ministro de Japón.
Más tarde, Koizumi dijo a los periodistas: "He demostrado cómo un político debe enviar mensajes y expresar ideas, no sólo leyendo un texto preparado".
Koizumi asumió el cargo actual de Ministro el 11 de septiembre.