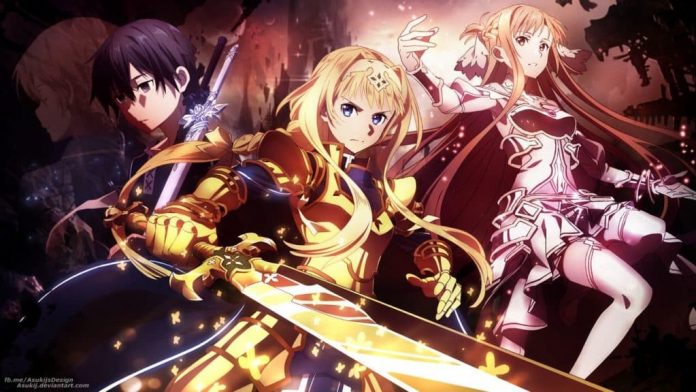 Como de costumbre, cerca del cambio de temporada, siempre se realizan esas votaciones para averiguar qué animes son los más esperados por el público. El ranking en cuestión fue realizado por el sitio Anime! Anime! y trae los nombres principales de la temporada a tu lista.
1º lugar – Sword Art Online: Alicization – War of Underworld
2º lugar – Chihayafuru 3
3ª temporada de Chihayafuru. El anime se centra en una chica que abandona el camino de ser modelo para dedicarse a un juego de cartas conocido como Kuruta.
3º lugar – My Hero Academia 4

La cuarta temporada de Boku en Hero Academia (My Hero Academia). En un mundo donde las superpoderes son parte de la vida cotidiana de las personas y ser un héroe es una profesión reconocida, Midoriya Izuku forma parte de un grupo selecto de personas que no han desarrollado habilidades especiales.
Incluso con este obstáculo en su vida, Midoriya sueña con convertirse en un héroe. Un día determinado, termina encontrándose con su gran ídolo, que decide elegirlo como sucesor de su legado.
4º lugar – Psycho-Pass 3
Nueva temporada de Pyscho-Pass con nuevos personajes. La historia se desarrolla en un mundo tecnológico en el que los delitos pueden predecirse mediante el uso de un dispositivo que evalúa a las personas y su estado mental.
5º lugar – Fate/Grand Order Absolute Demonic Front: Babylonia
Adaptación del arco del mismo nombre del juego Fate Grand Order. En la historia sigues al último mago disponible para salvar a la humanidad de su destrucción. Luego debe viajar a través de diferentes épocas y tiempos para resolver problemas conocidos como singularidades.
6º lugar – Nanatsu no Taizai Kamigami no Gekirin
Nueva temporada de Nanatsu no Taizai. La historia tiene lugar en un mundo donde un reino se ha corrompido. Una princesa decide ir tras los legendarios guerreros conocidos como los 7 pecados capitales para ayudarla. El problema, sin embargo, es que estos guerreros son considerados como criminales porque están tratando de destruir el reino.
7º lugar – Aikatsu on Parade! | Empate
Nueva temporada de Aikatsu. El anime seguirá a Raki Kiseki, y su viaje para convertirse en una idol, donde conocerá a chicas de diferentes versiones de la obra.
7º lugar – Shokugeki no Soma: The Fourth Plate | Empate

4ª temporada de Shokugeki no Soma. En la historia sigues a un chico que se traslada a una escuela de élite, se centra en la cocina, con el fin de convertirse en un mejor cocinero y derrotar a su padre.
9º lugar – Assassins Pride | Empate

En un mundo donde sólo los nobles tienen la habilidad de usar Mana, Kufa Vampir es contratado como tutor de una niña llamada Melida, pero pronto descubre que no tiene talento para usar Mana. Entonces se le informa que debe trabajar como asesino encubierto para poder matar a Melida.
9º lugar – Kono Oto Tomare!: Sounds of Life | Empate

Continuación de Kono Oto Tomare. En la historia acompañas a un grupo de estudiantes que forman parte del Club Koto, un instrumento de cuerda japonés y sus dramas personales.
11º lugar – Gundam Build Divers Re:RISE | Empate

Continuación de Gundam Build Divers. La historia sigue a un grupo de jugadores, cada uno con sus propias peculiaridades, que se relacionan entre sí para reconciliarse en el Nexo de Batalla de Gunpla Online.
11º lugar – Rifle is Beautiful | Empate

La historia sigue la vida diaria de un grupo de niñas en un club de pistolas de presión.
11º lugar – Houkago Saikoro Club | Empate

El anime gira en torno al club de juegos de mesa y a la vida cotidiana de las chicas que forman parte de él.
11º lugar – Ascendance of a Bookworm | Empate

Después de morir bajo tierra según sus libros, una niña que soñaba con ser bibliotecaria se reencarna en un mundo donde los libros son un privilegio sólo de los más ricos. Obsesionada con cumplir su sueño, la niña decide crear sus propios libros y construir su propia biblioteca.
11º lugar – Watashi, Nouryoku wa Heikinchi de tte Itta yo ne! | Empate
La historia sigue a Mile, una niña que, en su décimo cumpleaños, sufre un fuerte dolor de cabeza y recuerda que murió salvando a una niña. Debido a este acto, ella es llevada a Dios, donde tiene el derecho de desear cualquier cosa para su nueva vida.
Entonces decide que quiere reencarnarse en una chica con habilidades medianas para que pueda hacer amigos y tener una vida normal, sin embargo, los deseos son algo que no siempre funciona como los planes del usuario.
17º lugar – ACTORS: Songs Connection | Empate

La historia sigue a un grupo de chicos que tienen que participar en un concurso de canto para mantener su club funcionando en una escuela de élite que clasifica a los miembros por puntos, decidiendo así quién recibirá la mayor parte de las inversiones.
17º lugar – Ahiru no Sora | Empate

Un equipo de baloncesto formado por delincuentes que han perdido su pasión por el deporte vuelve a estar activo cuando un nuevo miembro se une al equipo.
17º lugar – Stand My Heroes: Piece of Truth | Empate

En la historia, hemos acompañado a un equipo de narcóticos, liderado por la única mujer del grupo, en varios casos policiales diferentes. El anime se basa en un juego otome (juego para mujeres).
17º lugar – BEASTARS | Empate

En un mundo donde los animales humanoides viven en paz, un joven lobo, miembro de una academia de teatro (actuación, teatro), sufre prejuicios debido a que su raza es considerada amenazante, aunque en realidad es una criatura sensible y obstinada para lograr sus sueños. En la historia seguimos su vida y la de sus compañeros animales de la academia.
17º lugar – We Never Learn: BOKUBEN | Empate

Segunda temporada de Bokuttachi wa Benkyou ga dekinai. En la historia varias chicas que son brillantes en ciertas áreas de estudio, pero terribles en otras, terminan en las manos del protagonista, un joven pobre y trabajador en los estudios, que se ve obligado a ayudar a estas chicas como parte de la beca que recibió.
¿Esperas alguna en particular?