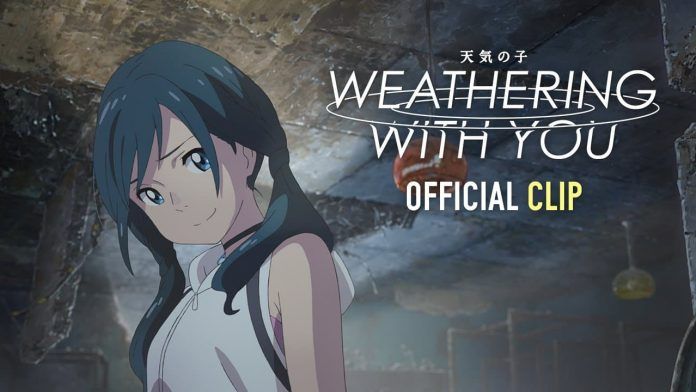 En tan sólo 6 días, en Estados Unidos, la película de anime Tenki no Ko / Weathering With You ya ha conseguido unos ingresos de más de 5 millones de dólares con la proyección de la película de anime de Makoto Shinkai (Your name) en 486 cines.
Puedes ver la película Tenki no Ko / Weathering With You grabado desde el cine aquí
La historia de Tenki no Ko acompaña al estudiante de Hodaka que deja su casa en una isla aislada y se traslada a Tokio, pero inmediatamente se va a la quiebra. Vive sus días en aislamiento, pero finalmente encuentra un trabajo como escritor para una oscura revista de ocultismo. Después de que empieza a trabajar, el clima es lluvioso día tras día. En un rincón de la ciudad, Hodaka conoce a una joven llamada Hina. Debido a ciertas circunstancias, Hina y su hermano menor viven juntos y tienen una vida alegre y fuerte. Hina también tiene un cierto poder: el poder de detener la lluvia y despejar el cielo.
Dirigida por Makoto Shinkai (tu nombre.) y animada por CoMix Wave, el diseño de personajes es de Masayoshi Tanaka (tu nombre., anohana, El Himno del Corazón), el director de animación es Atsushi Tamura (El Gato Regresa, Gundam: El Origen) y el director de arte es Hiroshi Takiguchi (El Jardín de las Palabras, Ajin). La compañía productora es STORY inc. y TOHO distribuirá la película de anime.