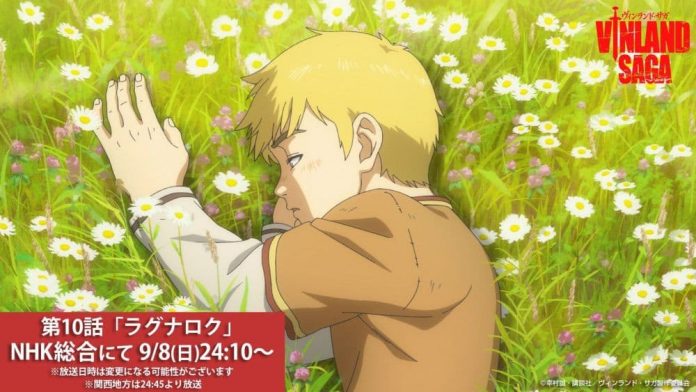 El episodio 10 se pospuso hasta el día 15 de este mes debido al tifón que se está produciendo en Japón.
Las noticias relacionadas con él se están apoderando de la programación y por lo tanto no se emitirá el episodio.
La noticia vino del twitter oficial de Vinland Saga:
【第10話「ラグナロク」放送休止のお知らせ】
台風15号の影響により、関連ニュース放送のため、今夜放送の第10話「ラグナロク」の放送が休止になります。
第10話は9月15日(日)24:10から(※関西地方は24:45から)放送予定です。 #VINLAND_SAGA

— TVアニメ「ヴィンランド・サガ」公式 (@V_SAGA_ANIME) September 8, 2019

También publicaron sobre el aplazamiento en inglés:
【Suspension of Episode #10 "Ragnarock"】
Due to the airing of emergency broadcast program related to the approaching typhoon tonight, all broadcast of Episode #10 will be suspended.
All broadcast will be aired next week.
We thank you for your understandings.

— TVアニメ「ヴィンランド・サガ」公式 (@V_SAGA_ANIME) September 8, 2019

"Suspensión del episodio 10 "Ragnarock"
Debido a la transmisión de emergencia relacionada con el tifón que se aproxima esta noche, la transmisión completa del episodio 10 será suspendida.
El episodio se emitirá la semana que viene
Gracias por su comprensión."