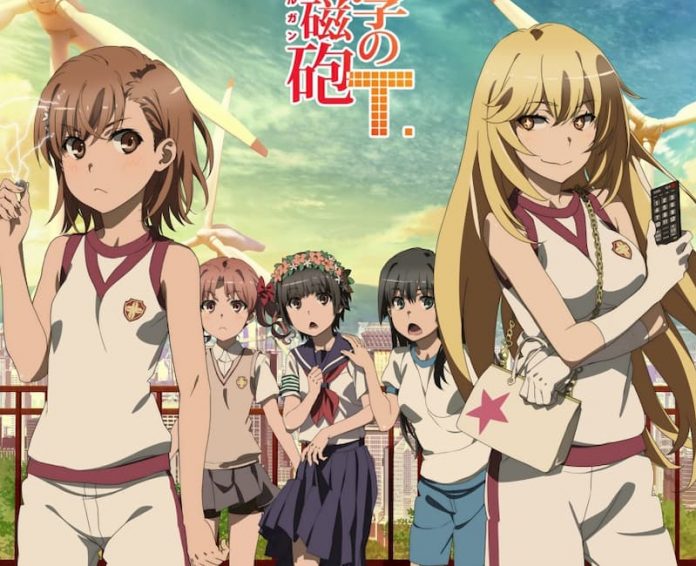 fripSide y Kyoudan & The Akeboshi Rockets cantarán las canciones para la nueva temporada de Toaru Kagaku en Railgun.
La tercera temporada de la serie de Anime TV Toaru Kagaku on Railgun (A Certain Scientific Railgun) debutará en las televisiones en enero en la temporada de invierno de 2020 y se llamará Toaru Kagaku no Railgun T .
También se confirmó que el tema de apertura estará a cargo de fripSide y que el tema final será Kyoudan & The Akeboshi Rockets. Los nombres de las canciones aún no han sido revelados.
Tatsuyuki Nagai regresa para dirigir el anime en el JC Staff. El reparto incluye:
Rina Satou como Mikoto Misaka
Satomi Arai como Kuroko Shirai
Aki Toyosaki como Kazari Uiharu
Kanae Itō como Ruiko Saten
Azumi Asakura como Misaki Shokuho
Otra información:
La serie de novelas ligeras "Toaru Majutsu no Index" (Un cierto índice mágico) de Kazuma Kamachi inspiró dos series de animación para televisión, una película en 2013 y varias adaptaciones para manga. La serie "Toaru Kagaku no Railgun" (Un cierto Railgun científico) también inspiró dos adaptaciones en animes de TV y un OVA. También hay una manga derivado titulada "Toaru Kagaku no Accelerator" y una secuela de la novela ligera titulada "Toaru Majutsu no Index – New Testament" (Toaru Majutsu no Index – Nuevo Testamento). Recientemente, la serie celebró su décimo aniversario con un proyecto de colaboración.
Recientemente, el manga Toaru Kagaku no Acelerador ganó una adaptación en Anime TV que se emitió en julio de 2019.