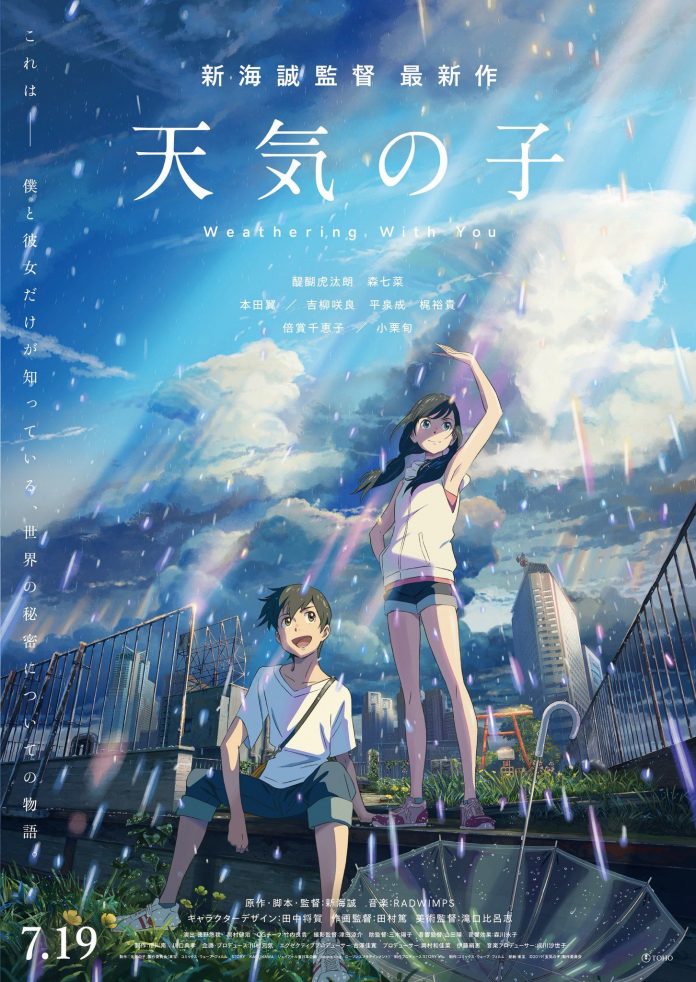 La película Tenki no Ko: Weathering With You tuvo un 28,6% más de ingresos en su primer fin de semana que la anterior película de Shinkai, Kimi no Na wa.
En nuevas actualizaciones publicadas por la prensa japonesa, la nueva película de Makoto Shinkai, Tenki no Ko: Weathering With You (Weather Child: Weathering With You) vendió 4.336.897 entradas para una recaudación de fondos de 5.908.466.600 yenes (unos 55,7 millones de dólares estadounidenses) en sus primeros 17 días. La película fue la primera en la taquilla de Japón por tercer fin de semana consecutivo. TOHO también comenzó a emitir un vídeo "más reciente" para la película.
La película se estrenó en 359 salas de cine y 448 pantallas en Japón el pasado viernes 19 de julio. La película ganó un 28,6% más en los tres primeros días, en comparación con su anterior película Kimi no Na Wa (Your Name), que recaudó 1.277.960.000 yenes (unos 12,51 millones de dólares en ese momento) en sus tres primeros días. En los tres primeros días de proyecciones, la película vendió 1.159.020 entradas a una colección de 1.643.809.400 yenes (unos 15,22 millones de dólares). La película ya había vendido 3 millones de entradas para recaudar más de 4.000 millones de yenes (unos 36,7 millones de dólares) en sus primeros 11 días.
El Festival Internacional de Cine de Toronto (TIFF) acogerá el estreno en Estados Unidos de Weathering With You como parte de su categoría de Presentaciones Especiales. La película es candidata para ganar el Premio del Público. El 44º TIFF tendrá lugar en los cines de Toronto, Ontario, del 5 al 15 de septiembre.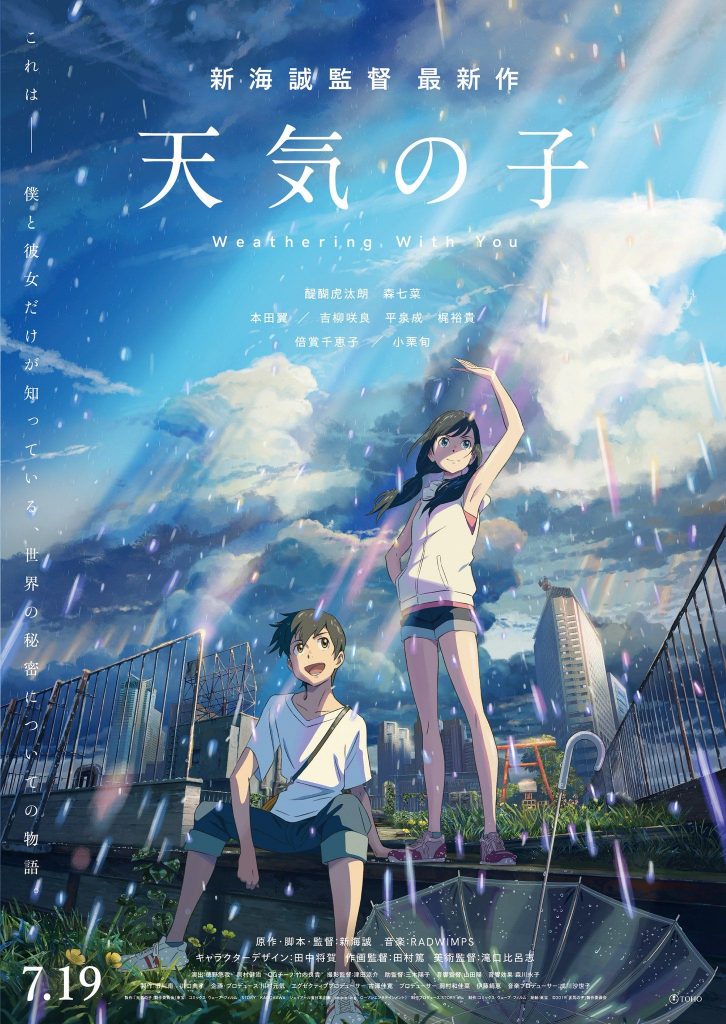 Anteriormente Shinkai dijo: "Si tengo vacaciones de verano, quiero empezar a pensar en mi próxima película. Si no podemos hacerlo rápidamente, no estoy seguro de que la gente pueda verlo durante otros tres años. Todavía tengo cero planes. La mención de Shinkai de tres años se refiere probablemente a su anterior película, Kimi no Na Wa (Your Name), fue estrenada en Japón en julio de 2016.
El director confirmó que la película Tenki no Ko se estrenará en todo el mundo y que ya se han decidido los estrenos para Norteamérica, Europa, Asia y Sudamérica. GKIDS ha concedido la licencia de la película para América del Norte y le dará un "premio de calificación" en las proyecciones de cine de este año antes de una proyección más amplia con subtítulos en inglés y una versión doblada en inglés a principios de 2020.
GKIDS describe la película:
En el verano de su primer año de bachillerato, Hodaka huye de su remota isla a Tokio, y rápidamente se ve empujado a sus límites financieros y personales. El clima es excepcionalmente oscuro y lluvioso todos los días, como para sugerir su futuro. Vive sus días en aislamiento, pero finalmente encuentra trabajo como escritor para una misteriosa revista de ocultismo. Entonces, un día, Hodaka se encuentra con Hina en una esquina muy concurrida. Esta chica brillante y fuerte posee una habilidad extraña y maravillosa: el poder de detener la lluvia y despejar el cielo…