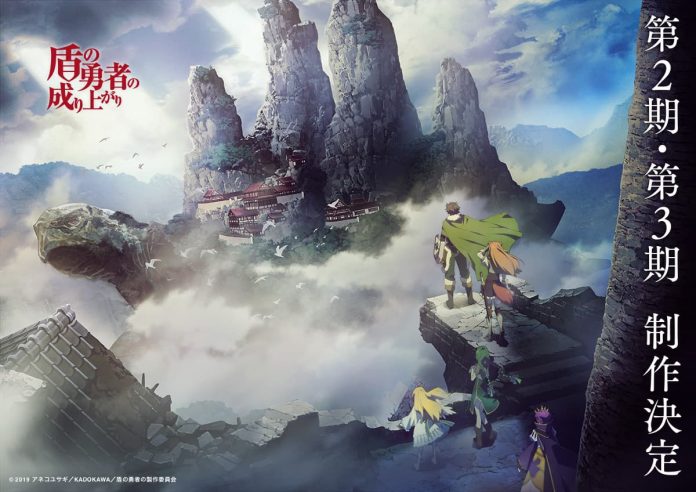 En EE.UU. continúa la Crunchyroll EXPO 2019, con muchos paneles, y en el especial de Tate en Yuusha o The Rising of the Shield Hero aprovecharon la oportunidad para confirmar que la segunda temporada está en camino y que también la TERCERA ya está en producción.
Primera imagen de la segunda temporada:
Echa un vistazo al anuncio de abajo para ver la cuenta oficial de Twitter:
Season 2 confirmed in production!
But wait, there's more….

Season 3 is confirmed to be in production. pic.twitter.com/uHTjgSPGeu

— The Rising of the Shield Hero (@ShieldHeroEN) September 1, 2019

La segunda temporada no es ninguna sorpresa, aunque no se confirmó, todos los números apuntaban a que sí. Anunciar de inmediato la tercera temporada fue algo que llama mucho la atención y esperamos que venga con cariño, después de todo el isekai de Naofumi y compañia tiene mucho que decirnos todavía.
Aneko Yusagi publicó la obra como novela en la página web Shōsetsuka ni Narō (Seamos novelistas) en 2012. Fue recogido y publicado por Media Factory en Japón en agosto de 2013. Aiya Kyū publicó la adaptación de manga en la revista Monthly Comic Flapper de Media Factory en 2014. One Peace Books está lanzando la novela y el manga en inglés. El editor describe el volumen del primer libro recopilado a partir de las novelas:
Naofumi Iwatani, un otaku no carismático que pasa sus días en juegos y manga, es de repente convocado a un universo paralelo! Descubre que es uno de los cuatro héroes equipados con armas legendarias y encargados de salvar al mundo de su destrucción profetizada. Como Shield Hero, el héroe más débil de los héroes, todo no es lo que parece. Naofumi pronto estará solo, sin dinero y traicionado. Sin nadie a quien acudir sin un lugar donde correr, sólo le queda su escudo. Ahora, Naofumi debe levantarse para convertirse en el legendario héroe del escudo y salvar al mundo!
Takao Abo (Norn9) conduce el anime en Kinema Citrus. Keigo Koyanagi (Regalia: The Three Sacred Stars) es el encargado de componer la serie. Masahiro Suwa (director de animación de Hitsugi no Chaika) está adaptando los dibujos originales de Minami Seira para la animación.