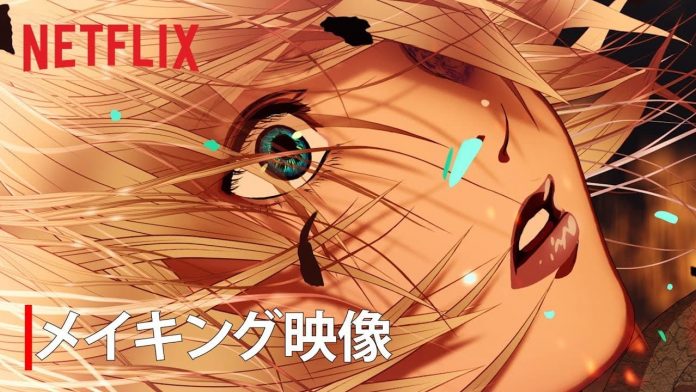 Sol Levante, el primer anime dibujado a mano con calidad HDR 4K, está programado para debutar este otoño en el catálogo premium de Netflix.
Netflix Japón lanzó el viernes (09/06) un video making of para Sol Levante, un proyecto experimental entre Netflix y Production I.G. para producir el primer anime dibujado a mano (tradicional) con calidad 4K HDR.
El vídeo incluye entrevistas con el director Akira Saitoh, el director artístico Hisashi Ezura, el ingeniero de tecnología creativa de Netflix, Haruka Miyagawa, el director del departamento de adquisición de contenidos de Netflix, John Derderian y el presidente y director general de Production I.G., Mitsuhisa Ishikawa.
Las entrevistas con Miyagawa y Derderian están en inglés.
Se espera que el anime debute este otoño de 2019, a través del plan premium de Netflix.
Haruka Miyagawa, ingeniero creativo de Netflix, está a cargo de supervisar el proyecto y Teru Saitou de Production I.G (efectos especiales de Blood+ , fotografía de Otogi Zoshi) está dirigiendo el proyecto.
Palabras de Saitou:
"Hay obstáculos como equipos y 4K y HDR son áreas subdesarrolladas en la industria. Como personas expresivas, siempre buscamos la oportunidad de producir videos que sean más bellos."
El sitio web, Animation Business Journal, señaló en febrero que se espera que aumente la búsqueda de un anime con resolución 4K. El sitio web cree que la producción de Production I.G y Netflix ampliará los límites de los animes dibujados a mano desde Japón. El proyecto tiene como objetivo utilizar las últimas tecnologías y técnicas de producción, con la experiencia de Production I.G y diseñadores.
Netflix anunció en enero de 2018 que ha formado una alianza comercial completa con los estudios anime Production IG y BONES. Netflix lanzó la serie mundial de anime Production IG, B: The Beginning simultáneamente en marzo de 2018 y está produciendo una segunda temporada.