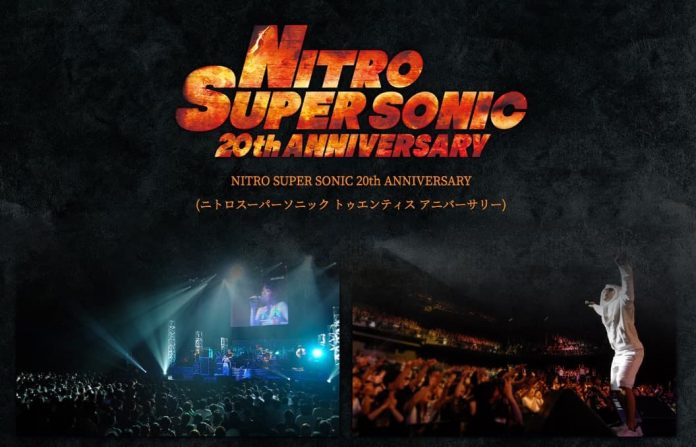 Para celebrar los 20 años de creación de obras increíbles que son apreciadas por los fans, Nitroplus organizó un gran concierto.
We're at a special concert given to celebrate the 20th anniversary of the founding of @nitroplus_staff. Congratulations, and thanks for making such great stories for fans! pic.twitter.com/f6iNAyKVyF

— J-LIST (@jlist) September 3, 2019

Más de 3 horas de interminables e increíbles actuaciones de cantantes famosos tocando toda la música de los populares juegos Nitroplus y Nitro+Chiral, además de las series de anime en las que trabajó la compañía.
Como uno de los temas del concierto era repasar todas las obras que la compañía había producido en los 20 años que lleva funcionando, aquí una recopilación de algunas de sus obras más importantes.
Los 16 juegos, anime y otras obras más famosos de Nitroplus son:
Thunderbolt Fantasy (2016)
Thunderbolt Fantasy es un innovador encuentro entre Nitroplus, Good Smile Company y el estudio taiwanés de producción de marionetas Pili International. Se trata de un drama de lucha con espadas interpretado con impresionantes marionetas. Los títeres son similares a los clásicos títeres japoneses de Bunraku, y las actuaciones son sorprendentes.
Touken Ranbu (2015)
Un juego de navegador producido por Nitroplus y DMM que surgió cuando una persona muy inteligente dijo: "Oye, ¿qué tal si reutilizamos la Colección Kantai en un juego sobre espadas famosas de la historia japonesa? Aprovechando el gran número de rekijo o de otákus de la historia femenina que están profundamente interesados en las figuras históricas icónicas del pasado de Japón, el juego ha sido un éxito rotundo, creando un nuevo género de fandom llamado katana joshi o "chicas de la espada".
Expelled from Paradise (2014)
Una cuidadosa película de producción de ciencia ficción creada por Nitroplus y su escritor estrella Urobuchi Gen. Aunque decididamente no soy un fanático del "proceso CGI de aspecto celular" con el que se hizo, es bueno que estén probando cosas nuevas y contando historias audaces.
Gakkou Gurashi
Llamado School Live! en inglés, este es un lindo programa moe sobre chicas que viven en su escuela por alguna razón. En realidad, es un anime zombie excepcional sobre cómo las chicas se enfrentan a la realidad de todo lo que sucede a su alrededor. Algunos de los mejores escritos que puedes encontrar en el anime. ¡Ve a verlo ahora!
Suisei no Gargantia (2013)
Un gran anime de ciencia ficción, Gargantia of the Verdurous Planet trata sobre un soldado de una guerra intergaláctica que aterriza en un mundo acuático poblado por gente que vive en barcos, con muchas chicas guapas. Animación de muy alta calidad, además de danza del vientre!
DRAMAtical Murder (2012)
Conocida también como "el juego del amor de los chicos que los aficionados casuales de tu escuela podrían conocer", DoraMada está ambientada en un futuro próximo, siguiendo la historia del protagonista Aoba Seragaki a medida que se abre paso por un mundo complejo.
Psycho-Pass (2012)
Una historia de ciencia ficción cyberpunk sobre un futuro en el que un ordenador complejo llamado "Sistema Sibyl" puede predecir si vas a cometer un crimen en el futuro.
Puella Magi Madoka Magica (2011)
El anime mágico que rompió el molde e hizo que todas las demás creadoras de chicas mágicas de anime dijeran: "¡Joder! ¿Cómo podemos superar esto?" Una raza de criaturas llamada Incubators viaja por el universo, pidiendo a las chicas que firmen un contrato con él para convertirse en una chica mágica. Si lo hacen, se les concederá un deseo… pero se enfrentarán a la destrucción total. También escrito por Urobuchi Gen.
Fate/Zero (2011)
Basado en una novela ligera escrita por Urobuchi Gen, el anime es una precuela del universo Fate/Stay Night. Es grandioso!
Super Sonico (2011)
Nitroplus tiene dos mitades: los escritores que crean las historias más duras, y el lado bonito del ratón que son responsables de cosas como Super Sonico. Originalmente creada como mascota oficial del brazo musical de Nitroplus, se ha hecho famosa en todo el mundo, y su juego en inglés que ha sido muy bien recibido.
Steins; Gate (2009)
¿Qué puedo decir de Steins;Gate? Es una de las historias más fascinantes jamás contadas. Un grupo de jóvenes científicos inventa accidentalmente una forma de enviar mensajes al pasado, y terminan arruinando el futuro, llevando a la Tercera Guerra Mundial y a la muerte de millones de personas. El anime es genial, pero es posible que el juego sea mejor porque hay siete finales diferentes, por ejemplo uno en el que Okabe decide ignorar el futuro y elegir ser feliz con Faris. Si no has jugado a esta gema, puedes comprarlo ya mismo aquí (con subtitulos en inglés)
sweet pool (2008)
Una novela visual de amor de un chico popular que tiene una historia impactante, sweet pool es una verdadera joya. El juego llegó traducido al ingés ¡sin censura alguna! (O censurado, si coges la versión Steam). El motor fue totalmente renovado y los gráficos actualizados a 1280×960 para la versión moderna. Encuentra el juego aquí en formato digital o físico, o coge la magnífica edición premium!
Jingai Makyou (2005)
Una hermosa novela visual que aún no ha sido traducida al inglés (en parte porque su motor no es compatible con el Windows moderno, y también porque la historia en sí no está terminada). Si has oído algo de este juego, probablemente lo sabes a través de sus cifras, que fueron muy populares.
Deus Machina Demonbane (2003)
Otro juego con un arte asombrosamente bello, Demonbane está estrechamente ligado al universo Cthulhu Mythos, por lo que los fans de Lovecraft disfrutarán mucho del juego. Gráficos fantásticos, personajes increíbles y momentos de diversión super sexy para todos. Encuentra el juego aquí.
Saya no Uta (2003)
Sin duda, el juego más famoso de Nitroplus, y el trabajo que puso a Urobuchi Gen en el mapa internacional. Es la historia de un hombre que se somete a una cirugía cerebral experimental que le hace percibir el mundo como un paisaje infernal poblado por monstruos Lovecraftianos…. todos menos una chica.
El remaster HD actualizado de Saya no Uta puedes adquirirlo aquí
Phantom of Inferno (2000)
La impactante novela visual que sentó las bases para todo lo que vendría después. En realidad tiene un lanzamiento en inglés, pero como un juego basado en DVD, por el desaparecido Hiramekiya. Si eres un coleccionista, trata de encontrar una copia! El anime de 2009 está basado en el juego y fue fantástico.
Por último, hasta el 11 de septiembre hay una promoción del 20% de descuento en todos los productos de Nitroplus en la tienda de J-LIST. ¡Aprovechala!
Via: J-List