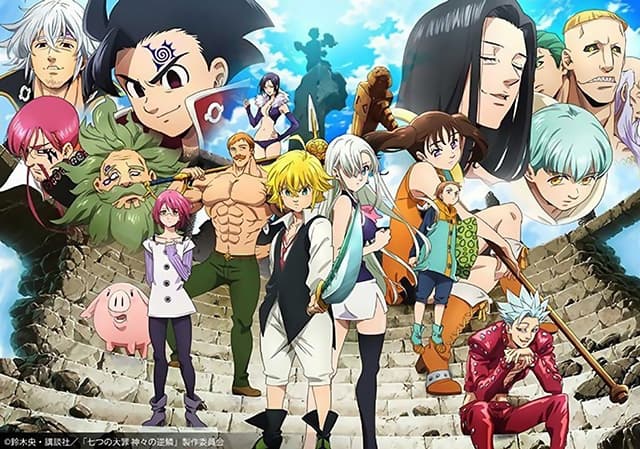 El sitio oficial del anime de Los Siete Pecados Mortales / Nanatsu no Taizai reveló hoy que la tercera temporada, Nanatsu no Taizai: Kamigami en Gekirin (Los Siete Pecados Mortales: La Ira de los Dioses), estará formada por 24 episodios.
Previsto para el 9 de octubre, la animación es de Studio Deen en lugar del estudio A-1 Pictures que animó la serie y la película anteriores. La dirección es de Susumu Nishizawa (Hikaru no Go, Reikenzan: Eichi y no Shikaku), la historia es de Rintarou Ikeda (Love and Lies, Hakyū Hōshin Engi, Love Tyrant) y los personajes son de Rie Nishino (directora del opening de Kakegurui).
En cuanto al reparto, Yuuki Kaji vuelve como Meliodas, Sora Amamiya como Elizabeth, Misaki Kuno como Halcón, Aoi Yūki como Diane, Tatsuhisa Suzuki como Ban, Jun Fukuyama como King, Yuuuhei Takagi como Gowther, Maaya Sakamoto como Merlín, y Tomokazu Sugita como Escanor.
La primera temporada de Nanatsu no Taizai incluyó 24 episodios que comenzaron a mostrarse en 2014. Luego tuvimos el especial de 4 episodios The Seven Deadly Sins -Signs of Holy War- en agosto de 2016, y la segunda temporada debutó en enero de 2018 bajo el nombre The Seven Deadly Sins: Revival of The Commandments (Nanatsu no Taizai: Imashime no Fukkatsu).
El 18 de agosto de 2018 se estrenó en los cines japoneses una película de animación titulada The Seven Deadly Sins: Prisoners of the Sky