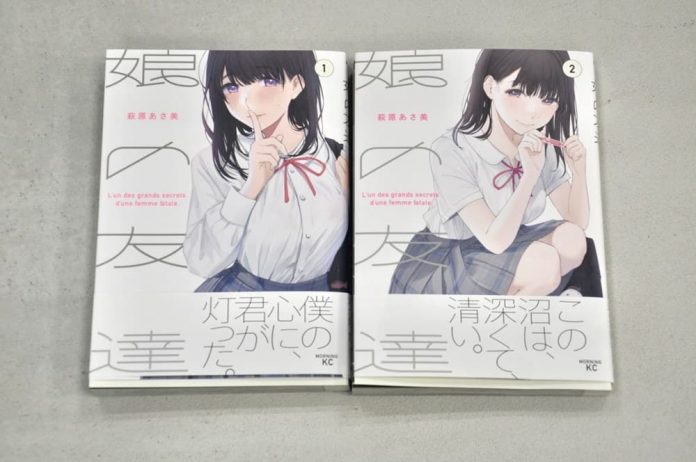 Hay una discusión en Internet en Japón sobre el manga Musume no Tomodachi (La amiga de mi hija), la razón es el temor de que este manga influya en los hombres de mediana edad para que persigan a las colegialas.
Musume no Tomodachi se convirtió en un objetivo debido a su historia.
Sinopsis de manga:
Kosuke vivió para interpretar su ser ideal como padre en casa y como gerente en el trabajo. Sin embargo, su vida cambia 180 grados cuando conoce a la amiga de su hija. Frente a él, Kosuke fue capaz de ser su verdadero yo y su corazón cansado fue sanado. Sin embargo, él sabe que estos son sentimientos que nunca deben ser guardados. Comienza la historia del hombre de mediana edad que conoce a la chica, presentado a la gente moderna que se reprime en la sociedad.
El manga es de drama, la esposa de Kosuke falleció pronto y después su hija vive encerrada en su habitación, no come, no le habla y no va a la escuela, Kosuke vive en el trabajo y está cansado todos los días.
Comienza a ver la vida que pasa a su alrededor y llega el día en que conoce a esta chica, a la que descubre para ser amiga de su hija, y ella empieza a seducirle y él empieza a caer en sus provocaciones/avances pero al mismo tiempo intenta resistir la diferencia de edad y otros factores.
La queja
La queja de una parte del público y que este manga puede influir en que los hombres mayores quieran quedarse con colegialas, menores de edad, instigando así un delito, por lo que existe una cierta presión sobre las redes sociales para que el manga sea cancelado.
Obviamente hay gente que defiende que el manga no debe ser cancelado, una de las defensas y que hemos tenido este tipo de trama antes, citando el manga After the Rain:
この作品を批判してるキチフェミの連中は他社で連載してた #恋は雨上がりのように の方は何故スルーしてたんですかね?
これも中年男性と女子高生との恋愛漫画なのに。
実写映画では大泉洋が演じてたから「イケメン無罪」なのですか。フェミニストは相変わらずの「お気持ち」主義なようで(苦笑) pic.twitter.com/MB4kimQU30

— 田宮良太郎 (@tamiya2345) November 17, 2019
After the Rain se hizo tan popular como el manga que recibió un anime y un Live Action, y la premisa es la misma, una chica de secundaria que ama a un hombre de mediana edad y quiere quedarse con él.
Pero leyendo Musume no Tomodachi, hay algunas diferencias claras con After the Rain, el principal y que Musume noTomodachi es más pesado, la chica encima del chico que la chica de After the Rain.
Los que piden la cancelación del manga citan las escenas de besos y también tienen una escena donde la chica le envía una foto bañándose para él.
Quien defiende el manga también cita que la gente tiene que aprender a diferenciar la realidad de la ficción.
¿Es una razón para pedir la cancelación del manga? ¿Qué opinas?