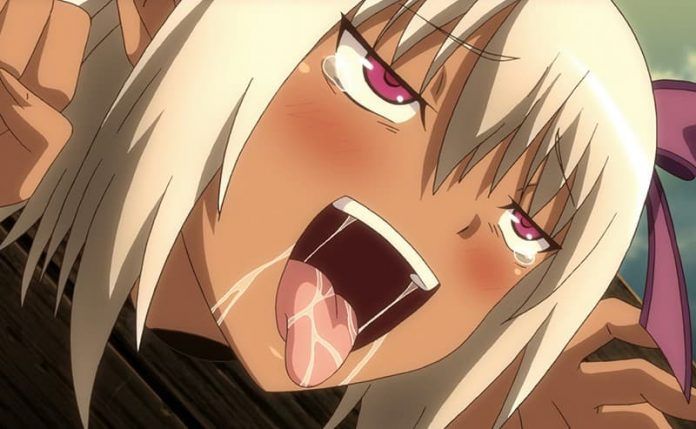 Lo sé, primero que nada: perdón por el retraso.
Diciembre tuvo estrenos de anime hentai decente, y también tuvo algunos que no servían ni para dormir. Hemos seleccionado los 5 hentais estrenados en diciembre 2019 que más nos han gustado.
Como siempre, si quieres verlo o descargarlo, basta con darle click a la imagen o la titulo.

Episodios: 4
Transmitido: Julio 2019 – Diciembre 2019
El rey demonio es ahora el gobernante del reino humano y es gracias a sus confiables generales y al caballero caído Luvilias. Humanos y demonios coexisten ahora en este nuevo reino y sin más guerras y conflictos, el rey demonio pasa su tiempo libre humillando a sus generales femeninos de la manera más degradante posible. Pero la buena noticia es que los generales, Iris, Lifulia, Tia, y ahora Luvilias, están disfrutando del tratamiento.
Darle a Ochi Mono RPG Seikishi Ruvyrias episodio 4 el 5º puesto de la lista fue difícil porque la historia es tonta y confusa y la presentación fuera de las escenas de sexo es ridículamente mala… Pero el anime lo compensa con un montón de escenas de sexo, bondage, violación de monstruos y bandas.
Hay muchas personas a los que les gusta el sexo con monstruos y Ochi Mono RPG Seikishi Ruvyrias es el único anime hentai de monstruos bueno que ha salido en diciembre para recomendar. De todas formas, las escenas de sexo son geniales y eso es porque Ochi Mono RPG Seikishi Ruvyrias está animado por el estudio Majin, el mismo estudio que animó a Kuroinu: Kedakaki Seijo wa Hakudaku ni Somaru, uno de los mejores hentai anime jamás realizados. Cuando se trata de sexo con monstruos, el estudio Majin es uno de los mejores.

Episodios: 6
Transmitido: Mayo 2018 – Diciembre 2019
Nuestra linda casera Miyuri se pasa por la habitación de Daisuke para cobrar el alquiler mensual y en lugar de cobrar el dinero y ser follada por su enorme polla, Miyuri está preocupada por Daisuke.
Verás, Daisuke está teniendo una racha de mala suerte, como poner la alarma en el momento equivocado, llegar tarde a la universidad, olvidar su cartera, ser orinado por un perro, y derramar su bebida en su smartphone. ¿Cuál es la causa de toda esta mala suerte? Es simple: Daisuke está perseguido por un espíritu maligno, y depende de Miyuri y su escaso disfraz de doncella de santuario para alejar a la entidad maligna. El exorcismo funciona, pero, bueno, ¡el espíritu maligno salta del cuerpo de Daisuke y termina poseyendo a Miyuri!
Dijimos que Dokidoki Little Ooyasan es repetitivo ,pero afortunadamente, el anime mezcló un poco las cosas en el episodio final con todo el asunto del exorcismo. Sigue siendo un tipo grande embarazando a un loli, pero Dokidoki Little Ooyasan lo hizo de manera diferente en el episodio 6 y el resultado es bastante saludable.
Dokidoki Little Ooyasan sigue siendo uno de los mejores animes hentai que existen, especialmente para los fans de los loli.

Episodios: 2
Transmitido: Noviembre 2019 – Diciembre 2019
Desde el feliz accidente del primer episodio, la vida de Amano Taichi en la escuela es genial, con todas las chicas demi adulándolo y mojando sus bragas. Ninguna chica demi puede resistirse al efecto afrodisíaco de su cuerpo, incluso su enamorada del instituto quiere su polla ahora. Hombre, este tipo está viviendo en una utopía llena de mujeres!
Love x Holic es definitivamente un hentai muy divertido con un atractivo diseño de personajes y hermosas escenas de sexo por el veterano estudio de anime hentai Seven, pero el episodio 2 es un poco decepcionante porque el cuarteto del final fue mal ejecutado.
Típicamente, un cuarteto ideal implica que las chicas se turnen para ser folladas y termina con todas ellas comiéndose entre ellas. Pero desafortunadamente, Love x Holic episodio 2 se saltó el primer paso y nuestro héroe Taichi sólo se folló a una chica mientras que el resto se conformó con cunnilingus y lamerle las pelotas a Taichi. En serio, ¿cómo es remotamente posible follar una escena de un cuarteto? Pero aún así, Love x Holic: Miwaku no Otome to Hakudaku Kankei The Animation es un anime hentai de alta calidad lleno de hermosas demi chicas y escenas de sexo estridente.
Episodios: 1
Transmitido: Diciembre de 2019
Shirosawa Takuya se graduó en la escuela de medicina y trabaja en el Hospital Universitario de Amagi para capacitarse en varios departamentos. Su siguiente parada es el departamento de medicina respiratoria, y allí, conoce a Amagi Ryou, su hermosa senpai del instituto. A diferencia de los otros departamentos, el de medicina respiratoria es quizás el más difícil para Takuya porque a Ryou-senpai le gusta mucho burlarse de él.
Boku to Joi no Shinsatsu Nisshi The Animation es una toma alternativa de Boku to Nurse no Kenshuu Nisshi The Animation de 2018 con el personaje principal Shirasawa Takuya terminando con su senpai y su compañero médico Amagi Ryou en lugar de su amigo de la infancia y enfermero del hospital Akagi Mio.
El ritmo y el humor de la historia es diferente en Boku que en Joi, con muchos juegos previos como que Ryou toma la delantera con su burla a Takuya, enseñándole a Takuya a usar "apropiadamente" el estetoscopio, Ryou acaricia la polla de Takuya con sus pies mientras él escribe su informe, y finalmente les lleva a tener mucho sexo. ¿Hay algún trasfondo de por qué a Ryou le gusta Takuya o de por qué se siente atraída por él? Bueno, no, y honestamente no importa porque Boku to Joi es una divertida experiencia de vainilla con una historia simple, un poco de feminidad, una chica principal más madura y asertiva, y un agradable final feliz.

Episodios: 2
Transmitido: Noviembre 2019 – Diciembre 2019
La historia es simple y directa al punto, así que una vez que las presentaciones terminan, es una mierda tras otra. Nuestro héroe, Souichi Takazaki, ha ganado la habilidad de tomar el control de los cuerpos de la gente, y en lugar de usar su poder para el bien, Takazaki lo usa para controlar los cuerpos de su compañeras, profesora y hermanastra contra su voluntad y convertirlos en sus esclavos sexuales personales.
Hay mucho anime hentai con hipnosis, pero Kutsujoku mezcla un poco las cosas con el control del cuerpo – las víctimas no pueden controlar lo que su cuerpo está haciendo y son totalmente conscientes de lo que les está pasando. El episodio 2 está en la lista de diciembre porque se necesita una gran escena de orgía para terminar el 2019.
En cuanto a las imágenes, Kutsujoku es la típica calidad del estudio Hentai T-Rex y puede ser algo bueno o algo malo: el estudio T-Rex es fiable en la entrega de grandes escenas de sexo, pero puede que te canses de ver el mismo estilo de arte una y otra vez. Afortunadamente, Kutsujoku tiene algunas grandes escenas de ahegao (caras de orgasmo) junto con una gran escena de orgía al final.
Algunos Hentai extra que nos dejaron en el último mes de 2019.
Venus Blood: Brave — El estilo de arte es atractivo, pero la historia y la presentación de baja calidad hizo que la experiencia fuera bastante meh, pero algunas de las escenas de sexo, fueron decentes.
Kiss Hug —  Studio Queen Bee. No dejes que el atractivo arte de la portada te engañe y estarás mejor con la lectura del manga.
Nozoki Kanojo — Un anime hentai de chantaje que muestra a un guardia de seguridad follándose a los estudiantes; el Jitaku Keibiin (2019) de un pobre hombre.
Rune's Pharmacy: Tiara – tou no Okusuriya-san — El episodio 4 fue sorprendentemente bueno, pero un éxito y 3 fracasos no se redimen. Sin embargo, si quieres más títulos hentai para ver, Rune's Pharmacy: Tiara – tou no Okusuriya-san es una buena elección.
Valkyrie Hazard – Hahahahaha! No.
Con esto, el 2020 queda listo para continuar con los siguientes ranking. ¿Algún Hentai que te marcó en 2019?