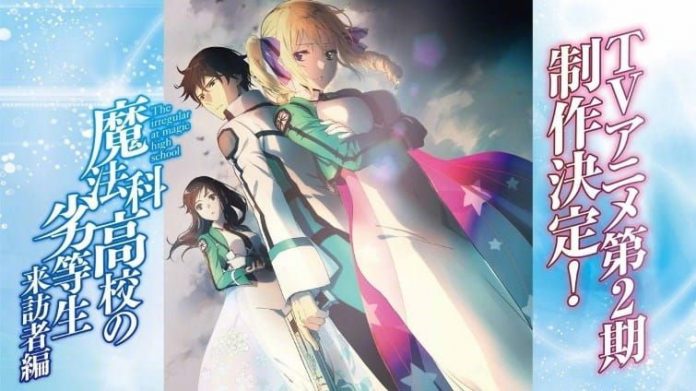 Risako Yoshida vuelve de la película de Mahouka Koukou No Rettousei para dirigir la segunda temporada en Studio 8-Bit. El anime cubrirá los volúmenes 9 a 11 de la novela.
【❗特報❗】
TVアニメ第2期「魔法科高校の劣等生 来訪者編」制作決定!!
2020年放送開始!!

『最強の兄妹は、無敵の来訪者に挑む』

2014年に放送された第1期から約二か月後の物語となる第2期をお楽しみに!
▼来訪者編公式HP▼https://t.co/hJW72n1KNJ#mahouka pic.twitter.com/LFVal3EGFZ

— 魔法科高校の劣等生 (@mahouka_anime) October 6, 2019

Durante el evento "Dengeki Bunko Aki en el Festival de Namahousou" este domingo (10/06) se reveló que el arco Mahouka Koukou no Rettousei: Raihpusha-hen (Arco de Visitantes), de la serie original de Tsutomu Satou, Mahouka Koukou no Rettousei, se adaptará al anime y se estrenará en 2020. El nuevo anime será la segunda temporada del anime.
Los miembros del elenco que regresan son Yūichi Nakamura como Tatsuya Shiba, Saori Hayami como Miyuki Shiba y Yōko Hikasa como Angelina Kudō Shields.
El arco cubre los volúmenes 9-11 de la serie ligera de Satou. Majiko! hizo una adaptación del arco para manga en la revista G Fantasy de Square Enix, publicada en diciembre de 2015 y cerrada el 18 de junio. El sexto y último volumen de manga fue lanzado el 10 de septiembre.
Tsutomu Satou lanzó la serie original de novelas ligeras con ilustraciones de Kana Ishida (dibujos de personajes de Aquarion Evol) en 2008 y el volumen 27 publicado el 10 de noviembre. La historia se dirige hacia su clímax.
La serie ha inspirado múltiples adaptaciones de manga a través de sus diversos arcos, así como varios manga derivados.
Las novelas originales inspiraron una adaptación de 26 episodios de anime para televisión que se estrenó en abril de 2014, dirigida por Manabu Ono en Madhouse. Las novelas también inspiraron la película Mahouka Koukou no Rettousei: Hishi o Yobu Shoujo (The irregular: The Magic: The Girl: Summons the Stars), que se estrenó en Japón en junio de 2017 con animación de Studio 8-Bit.