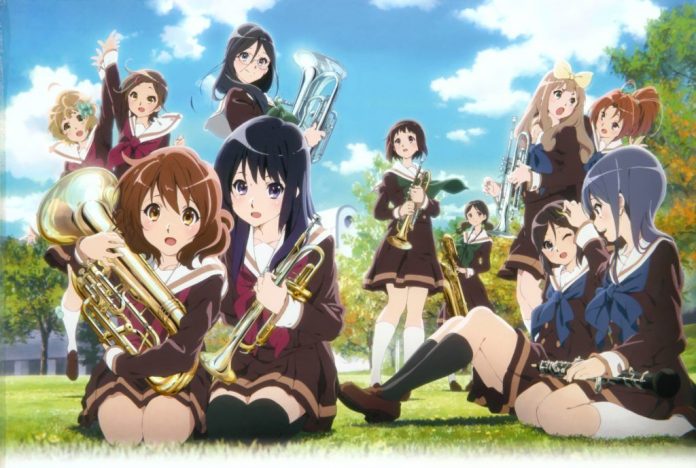 La tragedia que golpeó a Kyoto Animation cogió a mucha gente desprevenida, por eso se hizo esta encuesta a modo de homenaje al estudio recordando algunas de las grandes obras que entregaron.
El top está basado en una votación entre los fans japoneses, pero todavía tiene algunos de los nombres más importantes en el estudio.
1º lugar – Hibike! Euphonium
La historia sigue a Kumiko Omae, una niña que decide unirse al club de orquesta de su escuela, pero termina enfrentándose a una ex compañera de clase, y recordando un accidente en el que los dos se vieron envueltos en su antigua escuela.
2º lugar – Lucky☆Star
El anime acompaña a un grupo de 4 chicas, cada una con una personalidad única. La protagonista es Konata Izumi, una chica atlética e inteligente que lleva una vida perezosa de otaku.
3º lugar – Kyoukai no Kanata
Kyoukai no Kanata cuenta la historia de un niño llamado Akihito Kanbara, que en realidad es mitad humano y mitad "Youmu", una criatura que puede curarse rápidamente de heridas y lesiones.
En un nuevo año escolar, Akihito conoce a Mirai Kuriyama, una niña que intenta suicidarse saltando del techo de la universidad. Akihito salva a la niña de la muerte, pero apenas sabe que se está involucrando con la única persona en el mundo, incluso espiritual, que puede controlar la sangre. Desde entonces, hay una historia de suspense y tensión extrema que te ata a cada instante que pasa.
4º lugar – Hyouka
A petición de su hermana mayor, el estudiante Houtarou Oreki se une al Club de Literatura Clásica, junto con Eru Chitanda, Satoshi Fukube y Mayaka Ibara. En él, Oreki y los demás miembros comienzan a investigar un caso que ocurrió hace varios años en el que estaba implicado el tío de Chitanda.
5º lugar – K-On!
La historia sigue a un grupo de cuatro chicas en un club de música clásica. Pero lo que debería ser el escenario de aventuras con música termina convirtiéndose en una historia sobre beber té y pasar el tiempo divirtiéndose.
6º lugar – The Melancholy of Suzumiya Haruhi
Kyon llevó una vida monótona y aburrida, como todo estudiante de secundaria, hasta que un día termina involucrado por una chica excéntrica que dice estar interesada en conocer cosas anormales.
Lo que parecían delirios en la cabeza de la chica, resulta ser cierto, y cuando Kyon se da cuenta, es parte de un club formado por un extraterrestre, un camarero y un viajero del tiempo.
7º lugar – Koe no Katachi
Cuando era más joven, Shoya Ishida dirigía su clase intimidando a una niña sorda. Pero no duró mucho y la clase cambió los objetivos, de la chica a él. Después de estar aislado y de entender por lo que pasó la niña, comenzó a sentir una fuerte culpabilidad por todo lo que hizo. Años después, desearía poder volver a ver a la chica.
8º lugar – Free!
El protagonista es Nanase Haruka, un joven que desde muy temprana edad tuvo una pasión: la natación. En la escuela, él y otros tres amigos (Makoto Tachibana, Matsuoka Rin y Nagisa Hadzuki) se unen al club de natación y ganan el torneo antes de graduarse de la escuela primaria, cuando todos se separan y comienzan a seguir caminos diferentes.
Años más tarde, irónicamente, Haruka vuelve a encontrarse con Rin y ambos demuestran que sus habilidades de natación siguen siendo las mejores, y junto a Makoto y Nagisa y Ryuugazaki Rei, fueron el club de natación de la escuela Iwatobi, una vez más empezando a soñar con sus pasiones. Con una historia que incluye lo último en el deporte y una atractiva amistad entre los chicos,'FREE!
9º lugar – Violet Evergarden
En algún momento, en el continente de Telesis…. La gran guerra que dividió el continente en Norte y Sur terminó después de cuatro años, y la gente da la bienvenida a una nueva generación. Violet Evergarden, una joven conocida como "el arma", dejó el campo de batalla para empezar una nueva vida en la oficina de correos.
Allí se siente profundamente conmovida por el trabajo de Automóviles Automáticos, que llevan los pensamientos de la gente y los convierten en palabras. Violet comienza su viaje como autómata y se encuentra cara a cara con las emociones de muchas personas y diferentes formas de amor.
Hay algunas palabras que Violet ha escuchado en el campo de batalla, que no ha olvidado. Estas palabras fueron pronunciadas por alguien que le gusta más que nadie. Todavía no entiende su significado, pero busca encontrarlo.
10º lugar – Clannad
Con una vida problemática, Tomoya Okazaki terminó convirtiéndose en lo que muchos consideraban un delincuente, alejándose de todos y evitando las clases tanto como fuera posible. Sin embargo, su situación cambia cuando conoce a Nagisa Furukawa, una niña que sueña con entrar en el teatro, pero que no puede hacerlo debido a una enfermedad.