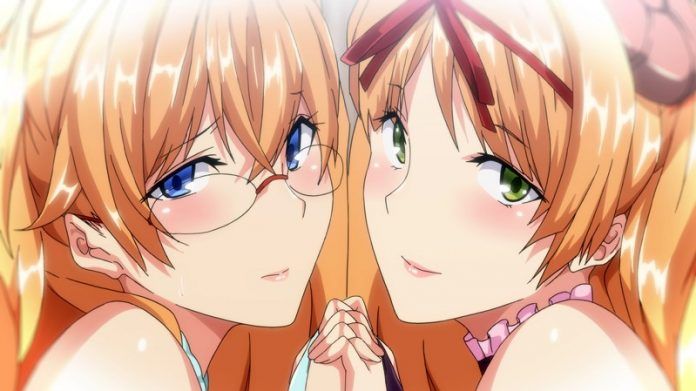 Si, lo sé. Ya estamos en el 2020, en el tercer mes y casi en el cuarto pero volvamos al 2019 y veamos los mejores hentai del año. Hubo muchos grandes títulos en 2019: lolis, chicas monstruo, temas sobre control mental, drogas, y simplemente la buena y anticuada vainilla. He aquí una selección de los 10 mejores hentai del año 2019
Como siempre, todos los hentai están disponibles para ver online o descargar. Solo dale click al titulo o a la imagen.
Tatsuya está con sus compañeros de otaku y después de que se separaron, algo llama la atención de Tatsuya – una hermosa mujer de pelo plateado y piel oscura tirada en el suelo, aparentemente inconsciente. Esta exótica belleza es Liliana y viene de un reino de fantasía del que no sabemos casi nada. En realidad, no sabemos mucho sobre Liliana en cuanto a quién es realmente, cuál es su nombre completo o de qué raza es. Tatsuya, sin embargo, no se molesta en hacer estas preguntas porque le gusta Liliana y eso es todo lo que le importa.
Wagaya no Liliana-sama The Animation es muy sencilla y puedes considerarla una mala adaptación del anime hentai porque la historia no te dice nada aparte de que Liliana es una chica de piel oscura de un reino mágico no especificado que se teletransporta aleatoriamente al reino humano por una razón no especificada. De hecho, la historia está tan despojada que puedes cambiar a Liliana por otra chica y la historia seguiría siendo la misma. Eso no quiere decir que Wagaya no Liliana-sama The Animation es mala en todo lo demás, su historia de romance de vainilla sobre un joven que vive con una hermosa chica de piel oscura y los dos finalmente se enamoran es agradable. Pero no dejes que el término "vainilla" te engañe porque Wagaya no Liliana-sama The Animation está animado por el estudio Seven, así que tendrás algunas escenas de sexo geniales que no son vainilla de serie.
Episodios: 2
Transmitido: Noviembre 2019 – Diciembre 2019
Amano Taichi es un estudiante de secundaria muy decidido y apunta alto buscando una novia demi-girl. Taichi tiene problemas porque a todas las chicas les disgusta por alguna razón. Mala suerte, amigo. No todo es inútil, Taichi se tropieza y se choca con los labios con Aoe Kuon, la chica más popular de la escuela. ¡Cliches románticos! Pero no fue amor a primera vista porque los dos se cortaron los labios durante el encuentro y Taichi se enferma y está postrado en cama durante una semana. Taichi vuelve a la escuela después de recuperarse completamente y entonces se da cuenta de algo extraño: todas las demi-chicas le adulan. Resulta que la sangre de Kuon se ha mezclado con la de Taichi y su cuerpo emite un aroma con efecto afrodisíaco que hace que todas las chicas de su entorno estén muy cachondas. ¡Cliches de romance Hentai!
La escena del cuarteto en el episodio 2 sigue siendo una decepción, pero eso no arruina el hentai. La historia carece en Love x Holic, pero las chicas son muy atractivas, el estilo de arte en general es hermoso, el héroe es decente, y las escenas de sexo son de primera categoría, todo gracias al veterano hentai anime studio Seven. Oh y no te olvides de las demi-chicas!
Episodios: 1
Transmitido: Noviembre de 2019
La madre de Kouta, de la nada, ha decidido renovar toda la casa y Kouta se ve obligado a quedarse en la casa de su amiga de la infancia, Aki, que está al lado. Kouta y Aki son amigos desde hace mucho tiempo, pero a medida que crecen, sus sentimientos por el otro crecen y todo lo que necesitan es un suave empujón para iniciar su relación. Y aparentemente, forzar a Kouta a dormir en la habitación de Aki en el futuro inmediato es el empujón más suave. Bien hecho, padres.
Necesitamos más experiencias de anime hentai de vainilla impulsadas por historias porque rompen la monotonía que involucra la lista habitual de tópicos como la violación, el control mental, las drogas, etc., y, bueno, Japón más o menos escuchó y 2019 nos dio un anime hentai de vainilla muy bien hecho. Aibeya The Animation es uno de los pocos anime hentai de alta calidad con una buena historia, un ritmo adecuado, escenas de sexo de primera clase y personajes a los que no puedes evitar animar. Aquí no hay personajes principales gordos, sin rostro y pervertidos, ni zorras de una sola mente inducidas por las drogas!
Episodios: 1
Transmitido: Abril de 2019
El estudiante de secundaria Nozomu está teniendo una conversación con su compañera de clase Shiori sobre el deseo de independizarse viviendo por su cuenta, pero no tiene ni idea de qué hacer. Afortunadamente, Shiori ha estado viviendo sola durante los últimos 3 años y ofrece su ayuda para enseñar y preparar a Nozomu para una vida independiente. Entonces, ¿cuál es el plan de Shiori? Simple: invitar a Nozomu a vivir juntos en su apartamento.
Aikagi The Animation es similar a Wagaya no Liliana-san The Animation y Aibeya The Animation, todas son historias de dos personas viviendo juntas y encontrando el amor. Pero a diferencia de Wagaya no Liliana-san The Animation, Aikagi The Animation tiene una historia completa con un desarrollo decente de los personajes, y a diferencia deAibeya The Animation, Aikagi The Animation tiene una historia de amor más feliz- pareja-viviendo-felizmente. En cuanto al sexo, bueno, son completamente vainilla pero están bien pensados. No te correrás con el cubo lleno, pero Aikagi The Animation te dará un sentimiento cálido y agradable en tu corazón sin amor.
Episodios: 2+
Transmitido: Julio 2019 – En curso
Shoujo Kyouiku RE es una colección de 2 historias cortas (hasta ahora) sobre chicas besándose con chicos mayores. El primer episodio cuenta la historia de Inagaki Sae reuniendo todo su valor para confesar sus sentimientos a su profesor. El episodio 2 cuenta la historia de Shiraishi Nana, una chica muy luchadora que está desesperada por que su hermano le folle fuerte. El problema es que su hermano se niega a tener sexo con Nana porque, bueno, ya sabes, son hermanos de sangre y demás. Esto es sólo un pequeño contratiempo y la Nana nunca planea rendirse.
Sí, te entendemos, Shoujo Kyouiku RE es un remake, pero Shoujo Kyouiku RE es lo suficientemente diferente como para ser su propia serie. Puede que pienses que el remake de 2019 es inferior al original debido a la falta de historia y a un considerable elenco de lolis, pero cuando se trata de puro loli hentai en 2019, Shoujo Kyouiku RE es el mejor de su clase. Y no olvidemos que el estudio detrás del fantástico loli hentai Shoujo Ramune también hizo Shoujo Kyouiku RE. Literalmente no puedes equivocarte con este hentai si eres amante de las lolis!
Episodios: 2+
Transmitido: Junio 2019 – En curso
Historia 1: La representante de la clase Akane confisca un manga hentai de su compañero Okazaki. Al día siguiente, Akane ve otro hentai manga en el camino a la escuela y rápidamente se "cuida". Akane toma algunas páginas del manga hentai por curiosidad y, bueno, su curiosidad saca lo mejor de ella porque Akane comienza a experimentar con su cuerpo después de mirar algunas páginas muy lascivas.
Historia 2: Hana se sorprende después de aprender sobre el sistema reproductivo humano y quiere aprender más. En lugar de preguntarle a la maestra, Hana invita a su amigo de la infancia, Kenta, para que la ayude a saciar su curiosidad por el cuerpo humano.
Una de las mejores cosas sobre el vainilla hentai es que cuentan interesantes historias románticas sobre por qué los dos se juntan en escenarios semi-realistas. Shishunki Sex contiene dos historias de adolescentes que experimentan con sus cuerpos maduros y experimentan el sexo por primera vez. Por desgracia, la adaptación del anime hentai, hasta ahora, sólo cubre dos capítulos del manga del mismo nombre, pero estas historias siguen siendo muy buenas con una dosis de comedia y escenas de sexo sorprendentemente bien animadas.
Episodios: 2
Transmitido: Julio 2019 – Agosto 2019
Son las vacaciones de verano, ¡y sabes lo que eso significa! ¡Vete a casa lejos de los dormitorios estrechos y relájate! Boku-kun no es del tipo extrovertido, pero hey, literalmente cualquier lugar es mejor que quedarse en el dormitorio donde la gente te arrastrará para algunas estúpidas actividades de verano. Boku-kun tomó la decisión correcta porque, en casa, tiene dos hermosas hermanas que están muy emocionadas por verlo. ¡Muy, muy emocionadas, si entiendes la sutil implicación que estamos insinuando!
Fue difícil decidir elegir Ecchi na Onee-chan ni Shiboraretai en lugar de Megane no Megami, ambos shows tienen incesto y ambos son animados por el estudio T-Rex. Ecchi na Onee-chan ni Shiboraretai se destaca porque el estilo de arte es distinto, tiene 2 veces más incesto que Megane no Megami, y el sexo es más salvaje. En serio, no puedes equivocarte con un trío de incesto hentai anime. Pero Megane no Megami sigue siendo genial, y, bueno, a la mierda, ¿sabéis qué? Megane no Megami ocupa el puesto 4.5 y todos felices.
Episodios: 2+
Transmitido: Febrero 2019 – En curso
El pervertido, sudoroso y feo gordo Tanaka Hajime le lavó el cerebro a todos con su poderoso hechizo hipnótico para que crean que es un consejero sexual licenciado, una persona que da entrenamiento sexual a todas las chicas de la escuela. Estas sesiones de educación sexual son obligatorias, así que todas las chicas van a Hajime para que las follen sin darse cuenta de que han sido hipnotizadas. Es el trabajo soñado de un hombre, para ser honesto.
Saimin Seishidou The Animation es uno de los anime hentai más atractivos, no sólo la animación, las escenas de sexo y los valores de producción son altos, el estudio T-Rex capturó casi perfectamente el estilo del material original; ¡es difícil notar la diferencia! Seguro que el estilo de coloración es diferente y algunas escenas se ven un poco mejor en el manga, pero en general, es impresionante ver al estudio T-Rex haciendo un esfuerzo extra para capturar el estilo del mangaka Aiue Oka. Aparte de eso, Saimin Seishidou es un gran paquete que presenta a un gordo hipnotizando a toda su escuela y violando impunemente a las bellas chicas del instituto. Sí, Saimin Seishidou The Animation no animó todos los capítulos de manga, y para ser justos, Saimin Seishidou sigue siendo una serie en curso. Espero que tengamos más episodios en el futuro.
Episodios: 2
Transmitido: Marzo 2019 – Julio 2019
Shuntarou es perezoso, no conoce el concepto de tomar baños, pasa su tiempo jugando novelas visuales de incesto, y es odiado por sus 3 hermosas y maduras hermanas Ayaka, Chiaki y Fuyuno. Un día, Shuntarou se encuentra con otra novela visual de incesto que no recuerda haber instalado en su ordenador. Esta novela visual parece estar rota y Shuntarou la deja en paz y se va a la cama. Cuando Shuntarou se despierta, se transforma en un niño y sus hermanas lo encuentran irresistible.
Las adaptaciones de un manga hentai a un anime hentai raramente funcionan debido a muchos factores como la longitud de la historia, si la historia es demasiado larga, la adaptación recortará muchas escenas o reescribirá las escenas para que encajen en un formato de 2-4 episodios. Seikatsu Shuukan The Animation, más específicamente, la adaptación hentai anime del capítulo "Una semana de vida sexual cotidiana" de Seikatsu Shuukan es un ejemplo perfecto de una historia que funciona en forma de hentai anime, una historia corta y autónoma con escenas de sexo a un ritmo decente y un final apropiado sin secuelas.
Mientras que el estilo artístico del estudio Seven no coincide con el de Michiking, la presentación general de Seikatsu Shuukan The Animation es de primera categoría con las exageradas animaciones sexuales del estudio Seven que funcionan bien con el enfoque de la historia en el lujurioso y sudoroso afecto incestuoso entre un shota y sus hermosas hermanas.
Episodios: 2
Transmitido: Mayo 2019 – Agosto 2019

Cuando era joven, Enomoto Yuuji fue acogido por la familia Tsubakihara después de la muerte de sus padres. Yuuji ha encontrado consuelo en su nueva familia y ha ganado nuevas hermanas, las gemelas Yuna y Nina. A medida que los tres niños crecen y maduran hasta convertirse en jóvenes adultos, sus sentimientos hacia el otro cambian y ya no se ven como hermanos. ¿Florecerá el amor entre Yuuji y una de las gemelas o Yuuji encontrará el amor en otra parte y mantendrá el status quo, sin herir a las gemelas y arruinar a la familia que lo acogió?
Master Piece The Animation tiene todo: un hermoso estilo de arte, hermosos personajes con diferentes personalidades y necesidades sexuales, una MILF muy caliente, una sana historia de romance que abarca dos episodios de 30 minutos que no involucra engaño, chantaje, drogas o violación, y la animación es manejada por uno de los mejores estudios de animación hentai que hay, el estudio T-Rex. Francamente, la residente MILF Tsubakihara Mira roba el show porque tiene más tiempo de pantalla que sus dos hijas juntas. Si buscas algo de la bondad de MILF que no sea hacer trampa o NTR, entonces por los dioses, Master Piece The Animation te tiene cubierto… de sudor y otros fluidos corporales variados una vez que termines de ver esto – nos atrevemos a decir – "obra maestra" de un anime hentai!
Eso es todo amigos. Si piensan que el 80% de esta lista es Vanilla, es pura coincidencia.
¿Crees que faltó alguno? Pon en los comentarios el o los hentai que crees que fueron los mejores de 2019.