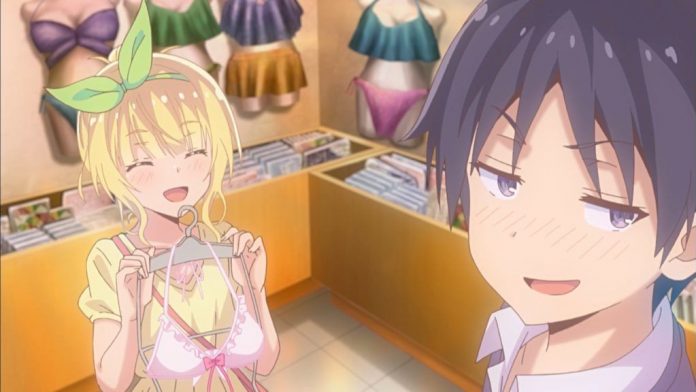 1º lugar – Danmachi II – 9,046 votos

El anime cuenta la historia de Bell, una aspirante a aventurera que decide iniciar su viaje junto a la diosa Hestia, enfrentándose a varios peligros en una enorme torre conocida como Calabozos.
2º lugar – Arifureta: From Commonplace to World's Strongest – 8,236 votos
En la historia de Hajime Nagumo, de 17 años, es un simple otaku. Sin embargo, su sencilla vida de amanecer y sueño en la escuela de repente se pone patas arriba cuando él, junto con el resto de su clase, es convocado a un mundo de fantasía. Son tratados como héroes y se les confía el deber de salvar a la raza humana de la extinción. Pero lo que debería haber sido el sueño de cualquier otaku se convierte rápidamente en la pesadilla de Hajime. Mientras que el resto de su clase está bendecida con poderes divinos, la clase de Hajime, Synergist, sólo tiene una capacidad de transmutación única.
Ridiculizado e intimidado por sus compañeros por ser débil, pronto se encuentra en la desesperación. ¿Puede sobrevivir en este peligroso mundo de monstruos y demonios con sólo un glorificado nivel de fuerza del herrero? En algún momento, cae en el fondo de una mazmorra. Para salir de allí, tendrá que abandonar completamente su yo débil e ingenuo del pasado.
3º lugar – Isekai Cheat Magician – 6,840 votos
La historia de la novela ligera se centra en Taichi Nishimura y su amigo Rin Azuma, ambos transportados a un mundo de fantasía. En el mundo anterior, Taichi era una persona normal con reflejos por encima de la media, tanto él como Rin adquieren habilidades físicas y mágicas en el nuevo mundo y comienzan sus vidas como magos.
4º lugar – Dumbbel Nan Kilo Moteru? – 6,658 votos
En el trabajo una chica a la que le encanta comer y que está ganando peso y decide entrar en un gimnasio, donde conoce a una compañera de clase que tiene un fetiche por los músculos, y va allí a admirar a los hombres del gimnasio (y a entrenar también….).
5º lugar – Tsujou Kougeki ga Zentai Kougeki de 2-kai Kougeki no Okaasan wa Suki desu ka? – 6,099 votos
En la historia el protagonista es enviado junto con su madre al mundo de un RPG, y ahora los dos tienen que adaptarse a su nueva vida en este mundo. La parte extraña es que aunque con poco conocimiento del juego, su madre terminó siendo absurdamente fuerte en el combate en ese mundo.
6º lugar – Sounan desu ka? – 6,085 votos

Cuatro jovenes están atrapadas en una isla desierta después de que su avión se estrellara contra el mar. Entonces necesitan encontrar una manera de sobrevivir en esa isla, aunque les cueste comer cosas asquerosas como insectos.
7º lugar – Enen no Shouboutai – 5,774 votos

En la historia, hay un fenómeno inexplicable que aterroriza a la humanidad, la combustión humana. Para luchar contra ellos y encontrar su causa, se creó el equipo llamado Fire Force, en el que acaba de entrar el protagonista, apodado el diablo por un incidente en el pasado, en un intento por hacer realidad su sueño de convertirse en un héroe. Junto con sus amigos se enfrentará diariamente a las "antorchas humanas".
8º lugar – Maou-sama, Retry! – 5,674 votos
La historia sigue la historia de un trabajador que termina dentro del juego online en el que trabajaba, sólo en esa piel de su avatar. Salva a una niña minusválida y después los dos comienzan a viajar por el mundo, mientras varias entidades parecen atacar al protagonista, que llama mucho la atención con su poder absurdo.
9º lugar – To Aru Kaguku no Accelerator – 5,650 votos
To Aru Kagaku no Acelerator se centra en Acelerator, una esper de nivel 5 que tiene la capacidad de controlar los vectores, y va acompañado de la alegre Last Order
Un día, Accelerator termina salvando la vida de Estelle Rosenthal, una misteriosa chica que lleva una foto de Last Order, y ahora se encuentra en un nuevo conflicto con una siniestra organización llamada Disciplinary Action, que planea usar la Last Order para una peligrosa misión.
10º lugar – Kawaikereba Hentai demo Suki ni Natte Kuremasu ka? – 5,546 votos
En la historia, el protagonista recibe una carta de confesión, pero sin el nombre de la persona que la envió, sólo una braga. Ahora tiene que encontrar al dueño de las bragas de su amada, pero termina descubriendo que todas las posibles candidatas son mega pervertidas que quieren usarlas de alguna manera en su perversión personal.
En el post original realizado por Crunchyroll es posible ver la posición de algunos otros animales que fueron votados, pero para los perezosos, los más relevantes fueron: Dr. Stone en el puesto 12 con 5.527 votos, Joshikosei Mudazukai en el puesto 14 con 4.891 votos, Kanata en Astra en el puesto 15 con 4.298 votos, Araburu kisetsu otome domo yo en el 16 con 4.061 y Cop Craft en el puesto 18 con 2.790 votos.