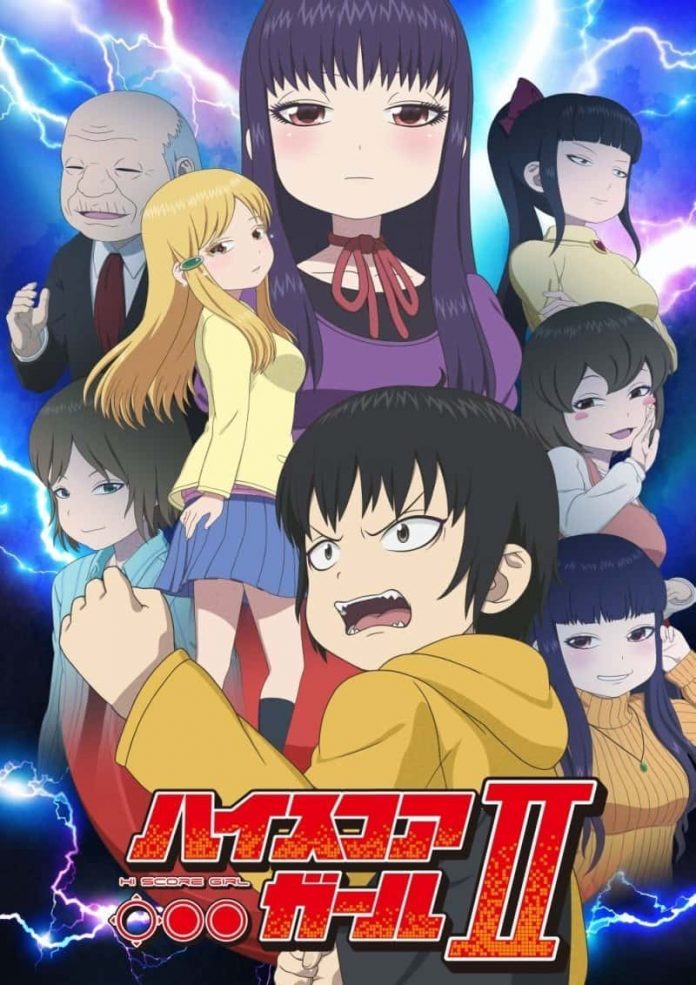 El canal de Youtube de WarnerBrosAnime ha subido un nuevo comercial de Hi Score Girl revelando que los episodios 13-14-15 que salieron como OVAs en la edición limitada de los BD se transmitirán en la TV el 4 de octubre. La segunda temporada como tal, comenzará el 25 de octubre con la transmisión del capitulo 16 en adelante.
Nueva imagen promocional:
El equipo de la temporada anterior volverá, pero Yūya Hatano está reemplazando a Eri Sekido como directora de modelaje de personajes. El equipo también regresa de la primera temporada y de la OVA.
La adaptación de Anime TV de JC Staff debutó en las televisiones japonesas el 13 de julio de 2018. La serie entró en el catálogo de Netflix en diciembre de 2018 y fue doblada al español en el verano. Los 3 episodios de OVAs, de 13 a 15 que no se emitieron en las televisiones japonesas, se estrenaron el 20 de marzo de 2019 en Japón.
Historia:
La historia del manga "comedia arcade romántica de los años 90" comienza en 1991, durante el apogeo de los juegos de lucha en 2D. Haruo pasa casi todo el día en una sala de juegos en la parte en decadencia de la ciudad, ajeno al mundo que le rodea. Sin embargo, un día, en su sala de juegos habitual, conoce a Akira, su compañero de clase con buenas notas y dinero. Puede parecer que no está acostumbrada a la sala de juegos, pero en realidad es una jugadora de primera clase. Akira supera completamente a Haruo en Street Fighter II una ronda tras otra y su relación se desarrolla a partir de este encuentro improbable.
Oshikiri publicó el manga en el Monthly Big Gangan en 2010. El manga detuvo la serialización en agosto de 2014 tras la denuncia penal de SNK Playmore, pero se reanudó en la revista en julio de 2016. Square Enix también publicó un retiro voluntario de los cinco volúmenes de manga en 2014, pero publicó los primeros cinco volúmenes en 2016 bajo el título Hi Score Girl CONTINUE.
SNK Playmore (ahora SNK) presentó una denuncia penal contra Square Enix en agosto de 2014, alegando que el manga Hi Score Girl presenta más de 100 casos de personajes de The King of Fighters, Samurai Spirits (Samurai Shodown) y otros juegos de lucha de SNK. Square Enix presentó una reconvención contra SNK Playmore en octubre de 2014. Las dos empresas se decidieron por el manga en agosto de 2015 y SNK Playmore cerró su proceso penal contra Square Enix.
El manga original de Oshikiri completó su serialización el 25 de septiembre de 2018.