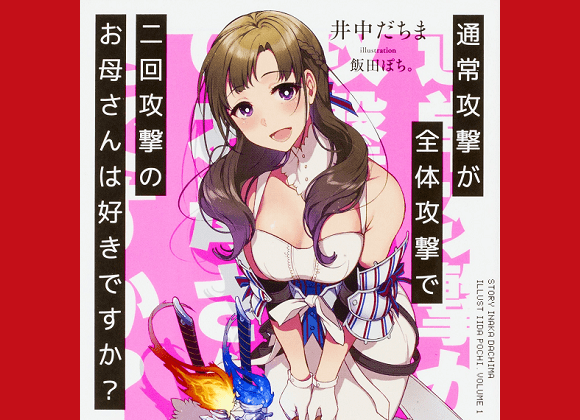 Años de ventaja desde siempre
Animate, la mayor cadena de tiendas especializadas en anime de Japón, llevó a cabo una promoción que animaba a los otaku a ir de compras con sus mamás hace 2 años.
Entre el 20 de enero y el 12 de febrero de 2017 , los clientes que fueron a comprar una de las cuatro novelas recibieron un folleto de arte ilustrado gratuito de 16 páginas… siempre y cuando sus madres estén con ellos en la caja registradora cuando realicen la compra.
Este evento único se celebró en colaboración con Fantasia Bunko, una editorial de novelas ligeras, el equivalente japonés a la ficción para adultos jóvenes y, actualmente, el terreno más fértil para el material de adaptación de anime. Como muchas editoriales de novelas ligeras, Fantasía Bunko entrega regularmente premios en reconocimiento a escritores prometedores, y otorgó su premio más alto a Do You Like Moms Whose Regular Attacks Hit the Entire Enemy Party Twice (Tsuujou Kougeki ga Zentai Kougeki de Ni-kai Kougeki no Okaasan wa Suki desu ka?), escrito por Dachima Inaka.
El largo (como es habitual en las novelas ligeras) título hace referencia a la situación en la que se encuentra el protagonista del libro. Masato, un estudiante de secundaria común y corriente, se ve de repente inmerso en el mundo de los videojuegos de fantasía, al igual que su adorable madre, Mamako (que aparece en la portada del libro, en la foto de arriba). Resulta que en este reino alternativo, Mamako es una espadachina extremadamente poderosa, que también es capaz de usar su aura maternal para hacer que los monstruos viciosos se duerman. Además, también se encarga de entrevistar personalmente a cualquier joven que desee convertirse en la compañera aventurera de Masato, ya que es lo suficientemente inteligente como para sospechar que una relación de este tipo podría convertirse en un romance con su hijo adolescente.
Si Sword MILF Online no te llamaba la atención, también podias obtener el folleto ilustrado si ibas con tu mamá a comprar uno de los otros ganadores del premio Fantasía Bunko: del autor Yashiki Tanabe "To You Who Smiled at the Made-Up Story, del autor Eko Nagi "Sacrificing my Youth, I Parted her Bangs", o del autor Taehito Kato "Berserker of the Magical Academy Territory-Secret Pact of the Black Flame Princess", ninguno de los cuales tiene los elementos narrativos maternos del libro de Inaka.
Los compradores que se presentaron en Animate sin su madre tenían que comprar tres de las cuatro novelas para conseguir el libro de arte. Con las novelas ligeras que generalmente se venden por unos 650 yenes (5,60 dólares), eso significa que puedes ahorrar una buena cantidad de cambio si mamá iba con ellos.