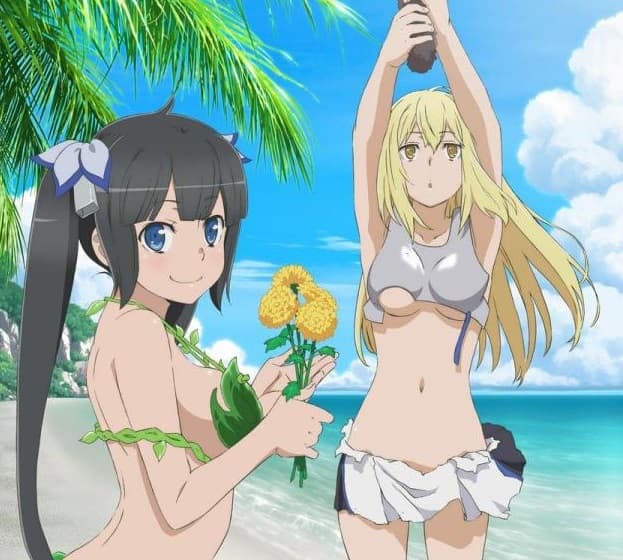 Hestia y Bell no escaparán del episodio de la playa.
El sitio oficial del anime de Danmachi o Dungeon ni Deai the Motomeru en el wa Machigatteiru Darou ka? (It's Wrong to Catch a Girl in a Dungeon?)  anunció que la tercera temporada con Hestia y su familia ya recibió la luz verde para la producción y también aprovechó la oportunidad para anunciar la fecha de lanzamiento de OVA, el 29 de enero de 2020.
Y, por supuesto, un póster para mostrar lo que se puede esperar de la OVA:
SINOPSIS
Conocida como la "mazmorra", la ciudad de Orario tiene un enorme laberinto subterráneo. Su extraño nombre atrae la emoción, las ilusiones de honor y las esperanzas de romance con una chica hermosa. En esta ciudad de sueños y deseos, el nuevo aventurero Bell Cranel tiene el fatídico encuentro con la pequeña diosa Hestia. Así comienza la historia de un niño que se esfuerza por convertirse en el mejor aventurero y en una diosa solitaria en busca de seguidores, tanto con la esperanza de alcanzar sus metas como de tener un poco de romance en la casa de al lado.
STAFF
Hideki Tachibana ( Busou Shoujo Machiavelism) reemplazará a Yoshiki Yamakawa como director de la segunda temporada en JC Staff. El guionista Hideki Shirane, el diseñador de personajes Shigeki Kimoto, el director de sonido Jin Aketagawa y el compositor Keiji Inai regresan por segunda vez.
Otra información:
La serie ganó una adaptación para Anime TV en 2015 por el estudio JC Staff y también ganó una adaptación al manga por la mangaka Kunieda. La serie ganó un spin off en una novela ligera titulada "¿Está mal tratar de ligar con chicas en una mazmorra? Sword Oratoria", que ganó una adaptación de Anime TV titulada Danmachi Gaiden Sword Oratoria en 2017, así como una adaptación para manga.