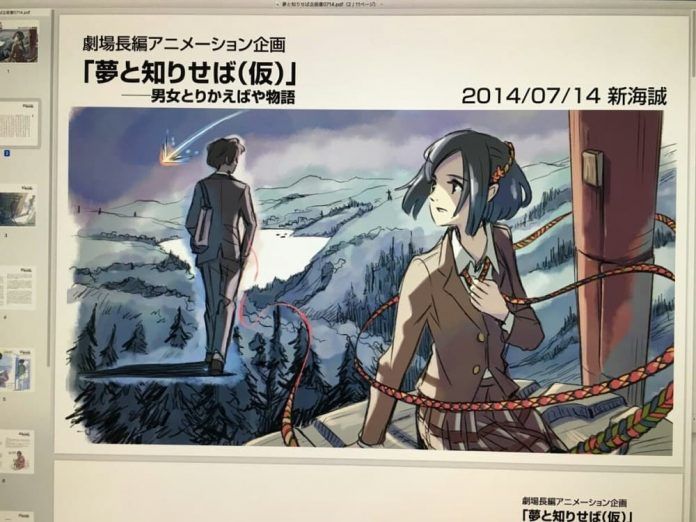 Con el lanzamiento del DVD y el Blu-ray de Kimi no Na wa (Your Name), los fans tuvieron acceso al folleto que viene con varias curiosidades geniales del desarrollo de la película y conceptos iniciales.
El 15 de julio, Makoto Shinkai publicó en su cuenta de Twitter algunos borradores y conceptos de Taki y Mitsuha, que formaban parte de su proyecto inicial enviado al productor y distribuidor de películas Toho, el 14 de julio de 2014
Traducción en bruto de la ilustración: "Al intercambiar cuerpos en sus sueños, los dos terminan descubriendo los secretos del otro".
Ambos personajes tienen rasgos faciales más agudos y expresiones serias, con Mitsuha usando una chaqueta en lugar del uniforme de verano que lleva en la versión final de la película. Taki aparece sosteniendo algo que parece un arma, pero que bien podría ser sólo un smartphone. Aunque el cometa y el lago (que aparecen en Kimi no na wa) están presentes, el arte nos da la impresión de que en algún momento del desarrollo, Taki viviría en el campo y en la campiña mientras que Mitsuha viviría en la ciudad.
Las ilustraciones también representan el título original de la película: Yume to Shiriseba, o simplemente "Si hubiera sabido que era un sueño", que es un extracto de un poema de Ono Komachi (poeta del siglo IX) "Me dormí pensando en ti y te vi en mis sueños, y si hubiera sabido que era un sueño, no me habría despertado".
Yume to Shiriseba es también un nombre de una película japonesa de 1977, que sugiere una vez más que Makoto Shinkai es un cinéfilo de corazón.
Shinkai también compartió otros documentos antiguos, uno que muestra cómo el "intercambio de cuerpos" siempre ha sido una parte importante de la historia.
3年記念日?ということで、企画書から趣意書(映画のねらい)を投稿します。スタッフに向けた文章なので曖昧・乱暴な記述もありますがご容赦を。最初はこんなことを考えて作り始めたのです。もちろん、この後にプロット、脚本…と進むに従い、映画の形はすこしずつ変わって行くのですが。 pic.twitter.com/YQwCHhK1RI

— 新海誠 (@shinkaimakoto) July 15, 2017
"Pensar en algo como 'me gustaría ser un chico' en algún momento de la pubertad es casi una experiencia universal, que casi todo el mundo puede recordar que ya lo ha deseado. Creo que este deseo de cambiar de cuerpo con alguien no se limita a una cuestión de género, sino que se refiere a algo más profundo y más grande. ¿Por qué no soy otra persona?', '¿Por qué la gente quiere a otra gente?', '¿Por qué la gente puede empatizar con otra gente? Estas cuestiones de identidad son fundamentales en nuestra historia reciente y son cuestiones en las que una historia sobre el intercambio de cuerpos tiene mucho que abordar. En una historia en la que un hombre y una mujer intercambian cuerpos, centrándose sólo en las escenas sexuales, es una técnica que no logrará bien estas marcas y objetivos".
Como la mayoría de los que vieron a Kimi no Na wa, imagino que a muchos les gustan los chistes y las situaciones en las que los sexos opuestos intercambian cuerpos. Pero desde el principio, Shinkai quiso evitar que estos elementos fueran el foco principal, a diferencia de muchos animes que usan este tema como la pieza principal de la trama.
"Este nuevo proyecto de animación, 'Si hubiera sabido que era un sueño', será un nuevo estilo de historia de intercambio de cuerpos. Aunque utiliza oportunidades cómicas y excitantes en este intercambio de cuerpos entre adolescentes, el objetivo no es demostrar las diferencias entre los sexos. A medida que el personaje masculino y femenino intercambien cuerpos en sus sueños, los elementos de tener que actuar como una niña o un niño en la vida cotidiana serán más simples y tranquilos, como un videojuego o la realidad virtual".
En lugar de la risa, el director buscaba cosas más grandes, emociones más poderosas.
"La cámara sigue las acciones de la chica y el chico, mostrando su desarrollo como personas. Pero al mismo tiempo, también muestra a los adultos a su alrededor, y toda la atmósfera e historia que crean. Esta película es un intento de mantener el simple atractivo de una historia que demuestra el desarrollo de "tú y yo", mientras se conecta con una historia y un mundo más grande".