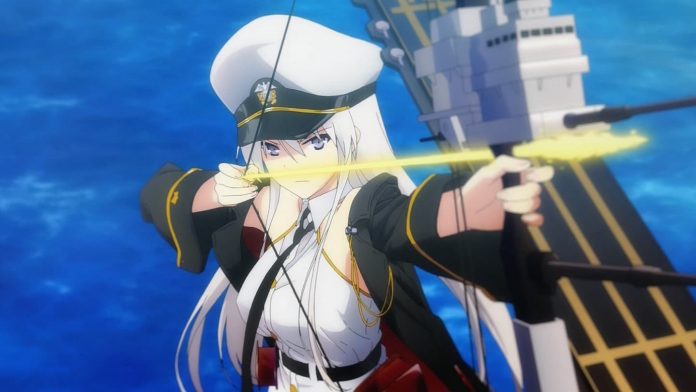 ¿Azur Lane antijaponés? ¿Qué quieres decir? Pero el anime está hecho en Japón y doblado en japonés por mujeres japonesas. ¿Qué tiene de antijaponés?
Bueno, después de que el primer episodio ha sido transmitido, algunos otakus japoneses de animes van a twitter, chan, etc para quejarse y tratar a Azur Lane como un anime antijaponés.
Explicando: En la historia del anime, hay 4 naciones principales que se han reunido para enfrentarse a las sirenas, pero ha habido una división de estas 4 naciones, porque no pudieron llegar a un consenso sobre un tema en particular y así comenzaron a pelear entre sí.
Entonces las dos naciones buenas serían la Unión del Águila y la Marina Real, mientras que los villanos serían la Sangre de Hierro y el Imperio Sakura.
En el juego y en el anime, cada nación representa un país y sus barcos del mundo real, la Unión del Águila es los Estados Unidos, la Marina Real el Reino Unido, Iron Blood Alemania y el Imperio Sakura Japón, y sí, muchas cosas de Azur Lane se basan en la Segunda Guerra Mundial.
Así que algunos japoneses no disfrutaron mucho viendo a Japón como los villanos, mientras que ellos vieron a los Estados Unidos (representados por los personajes Enterprise y Unicornio) como las damas jóvenes.
Algunos comentarios:
"El anime de LOL Azur Lane es antijaponés, pagar por microtransacciones te convierte en un espía."
"Vi el anime de Azur Lane, pero sentí náuseas en el momento en que demostró que los barcos japoneses eran los enemigos y me detuve. La gente que convirtió esto en anime debería morir por humillar al maldito anime japonés antijaponés".
"Así que la Armada Imperial Japonesa en Azur Lane es tratada como el enemigo, ¿cierto? Me hizo sentir deprimido".
"Japón es el enemigo en Azur Lane, así que es un anime antijaponés."
"Vi el anime Azur Lane, pero los barcos japoneses como Akagi y Kaga se mostraron como enemigos y me dejaron un poco triste y furioso. En particular, la apariencia de Akagi es bastante mala. Además, la ropa del barco es una copia completa de la Colección Kantai, no puedo sentir nada por ella, en términos de producción".
En caso de que no lo sepas, Azur Lane es un juego creado en CHINA, y por eso también he visto algunos comentarios en twitter como "Chinese want to show Japan as a villanium and take away their jobs"
A mucha gente no le importa que Azur Lane sea "antijaponés", el juego también es muy popular en Japón y tiene muchas chicas japonesas en el juego que son muy fuertes y queridas por el público, incluyendo Akagi y Kaga, estos dos son muy populares.
Obviamente hubo algunos comentarios de acuerdo, encontrando el anime anti japonés pero no creó un caso terrible al respecto. Si quieres echar un vistazo, aquí hay más de 2000 comentarios de los japoneses sobre el tema.
¿Qué opinas tú? ¿Está bien poner a los Estados Unidos y al Reino Unido como damas jóvenes mientras que Japón y Alemania como los villanos? Recordando que hasta ahora sólo ha pasado el primer episodio.