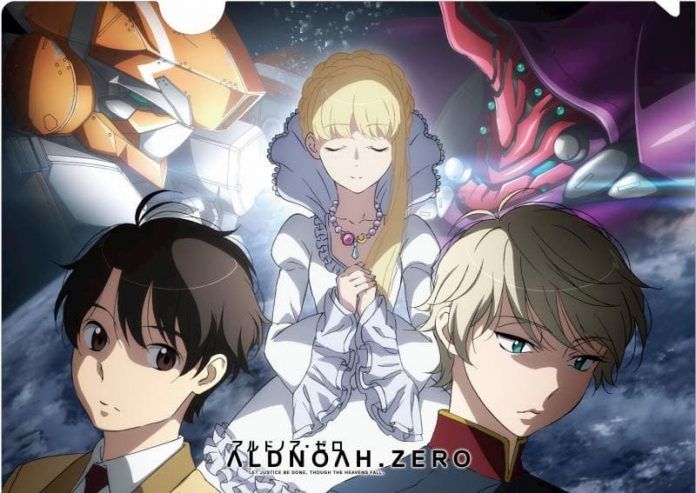 Este anime es del género mechas y comparte similitudes con muchos animes en cosas como la fantasía, estilo futurista, aspectos mecánicos, entro otras cosas que hacen que estos cinco animes que te vamos a mostrar a continuación sean una excelente opción si buscas animes parecidos a Eureka Seven.
Darling in the Franxx
Este anime se basa en una versión futura de la tierra en donde el suelo del planeta se ha visto con un daño severamente grave para poder habitarlo de la forma en la que conocemos hoy día.
La humanidad se ve en la forzosa tarea de crear robots gigantes y ciudades fortificadas a las que se les da el nombre de "plantaciones". Las ciudades creadas por las personas sirven de refugio para algunos humanos que aún quedan en el planeta y a su vez funciona como un campo de entrenamiento para niños que son entrenados para pilotar los robots que antes hemos mencionado. Los robots reciben el nombre de "Franxx" y los niños que los pilotan el de "parásitos".
El entrenamiento de estos niños es para combatir a enemigos denominados "Klaxosaurios". Pero mucho se esconde detrás de esta lucha a muerte y en cada episodio podrás ir descubriendo la verdad.
Aldnoah.Zero
En este anime las personas han colonizado marte lo cual llevo a una división de poderes tremenda entre ambos planetas y todo empeoro cuando los nuevos habitantes de martes descubrieron una poderosa tecnología alienígena que les permitió desarrollar enormes robots extremadamente fuertes, con los cuales le declaran la guerra a la tierra.
Luego de una lucha extensa se logra la paz entre ambos planetas, pero no todas las personas poderosas quedan de acuerdo con esto.
Lo nuevos habitantes de martes en vista de su nuevo poder se creen superiores a cualquiera que viva en la tierra y es que el "aldnoah" (nombre que se le da a la tecnología marciana descubierta) les brinda un poder devastador, y aprovechan que la princesa de marte Asseylum decide ir en persona a la tierra para fomentar el tratado de paz para intentar matarla y culpar a los terrícolas de este incidente y así poder reiniciar la guerra entre planetas.
Entre Aldnoah.Zero y Eureka Seven se pueden encontrar muchas similitudes, ya que ambos son animes de mecha, tienen temática de guerra, como también se aborda el tema de la lealtad y el romance, etc. Sin duda una opción excelente si quieres ver un anime que se parezca a Eureka Seven.
Gargantia on the Verdurous Planet 
Este anime se desarrolla en el espacio, ya que la humanidad ha podido desarrollarse enormemente en ámbitos tecnológicos y ahora pueden surcar el espacio normalmente.
Hideauze es el nombre que se le da al enemigo que tiene que enfrentar la alianza galáctica el cual es una especie que se asemeja a un calamar. El protagonista El Alférez Ledo es el piloto de una mecha de forma humanoide automatizada, que posee inteligencia artificial superior. Al fallar en una misión en donde se intentó destruir una súper arma enemiga Ledo cae a través de un agujero de gusano y pierde el conocimiento.
Al recobrar el conocimiento Ledo se da cuenta que ha sido rescatado por una banda de humanos primitivos y lo llevan a bordo del "Gargantia", el cual es una gran flota de naves. Luego de esto el protagonista poco a poco busca adaptarse a su nueva vida en el "Gargantia".
Neon Genesis Evangelion
Luego de que la humanidad pasa por un cataclismo global, que tuvo el nombre de segundo impacto, el joven Shinji Ikari es llamado por su padre, director de la fuerza paramilitar especial Nerv y es testigo de una lucha entre las fuerzas de las naciones unidas y un ángel que intenta destruir la humanidad.
Los ángeles contra los que luchan los humanos poseen un campo de fuerza casi imposible de penetrar, por lo que lo único que pueden hacer los humanos para rendirle batalla a estos, es, pilotear las biomáquinas gigantes Evangelion de Nerv, las cuales tienen que estar en sincronía con los nervios de sus pilotos para poder funcionar y brindar el poder que brindan contra los ángeles.
Shinji es llevado al complejo Nerv el cual está debajo de la ciudad, es allí donde su padre ejerce su autoridad sobre él y le presiona para que sea el piloto de la Unidad Evangelion-01, y de esta forma poder darle batalla al ángel que estaba atacando. Shinji acepta y usa la unidad Evangelion-01, pero al ser un completo novato en este campo de batalla pierde el control de del dispositivo que pilota y este termine por matar abruptamente al ángel de forma autónoma.
Luego de esto Shinji conoce a nuevos compañeros que lo ayudan en su batalla contra los 14 ángeles que intentan destruir la humanidad.
Classroom Crisis
Se basa en un grupo de chicos genios que estudian secundaria y que son parte del equipo A-TEC, este equipo tiene como función desarrollar tecnología de última generación para ir avanzando cada vez más hacia la ciencia del futuro.
La trama empieza a desarrollarse cuando se dan cuenta que el grupo de genios que forman A-TEC gasta mucho dinero, y por ello piden que se haga un recorte de presupuesto. Muchas cosas pasan en el equipo y emociones van y vienen en lo que el grupo intenta lidiar con el recorte que le han impuesto, pero al final logran salir adelante unidos.
Al igual que en Eureka Seven los personajes se la mantienen volando de un lugar a otro, son rebeldes en las cosas que hacen y son unidos cuando hay que serlo. Pero sin duda al querer buscar similitudes que sean de Eureka Seven este anime demuestra que en unión se pueden superar arduas batallas y hacerse con la victoria por imposible que esta parezca.