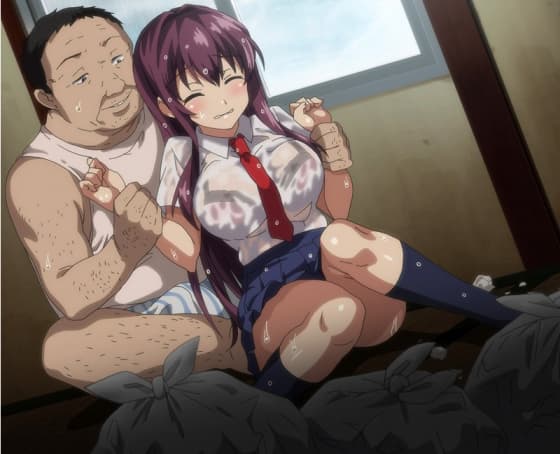 Lo sé. llego con 4 meses de retraso pero mas vale tarde que nunca.
2020 está definitivamente aquí (no es que haya empezado de una forma esperanzadora con el tema del coronavirus) y es hora de revisar los títulos de hentai que salieron en enero. ¡Vamos a empezar!
Episodios: 1+
Transmitido: Enero 2020 – En curso
La linda y adorable Chii-chan ama mucho a su tío y quiere casarse con él cuando crezca… Lo que fue un grave error en retrospectiva porque nuestro querido tío sin nombre tomó su propuesta de matrimonio muy en serio. Años más tarde, Chii-chan se ha convertido en una hermosa niña y ahora odia a su tío. ¡Uf! Qué giro de la trama. Pero como en todo hentai, siempre se encuentra una manera, así que nuestro querido tío no se da por vencido y hará de Chii-chan su mujer de una manera u otra.
Honestamente no hay mucho más que decir sobre Chii-chan Kaihatsu Nikki porque es el típico gordo feo de mierda que nunca se bañó en su vida violando a una chica de secundaria. Dicho esto, Chii-chan Kaihatsu Nikki está animado por el estudio T-Rex, así que las escenas de sexo son muy detalladas y bien animadas. Si buscas un rapidito con un mínimo de problemas, Chii-chan Kaihatsu Nikki es perfecto para ti. No, en serio, no hay literalmente nada más que hablar de este anime hentai que el sexo se ve genial. Un buen polvo sigue siendo un buen polvo sin importar la clase de mierda pervertida que te masturbes.
También tiene una adaptación a JAV ► Chii-chan Kaihatsu Nikki JAV
Episodios: 8
Transmitido: Enero 2020 – Marzo 2020
Sudou Kazushi llega a su humilde apartamento y se encuentra con sus hermanas pequeñas ya dentro, relajándose. Las hermanas Shirakawa Ayane y Shirakawa Kotone no son exactamente las hermanas de Kazushi, pero los tres están muy unidos desde la infancia. Ahora que las tres han alcanzado la adolescencia, las cosas se intensifican cuando Kazushi se burla de Ayane y Kotone para que se unan a ellas en la bañera. Y, vaya, las cosas se intensificaron más rápido de lo que se puede decir "¡no es incesto!"
Overflow es uno de esos shows de anime con varias versiones: las de tres minutos son la versión censurada, segura para el trabajo, y las de siete minutos son las versiones completas, con las escenas de sexo. La versión completa es obviamente la mejor y Overflow ofrece escenas de sexo de vainilla bellamente animadas con cada episodio alternando entre las dos hermanas. En cualquier caso, Overflow es hasta ahora un lindo y pequeño paquete y es una de las mejores cosas que han salido en enero de 2020.
Episodios: 1
Transmitido: Enero 2020
Anette-san, una hermosa chica de piel oscura y cabello plateado se ha mudado al complejo de apartamentos de nuestro héroe y nuestro héroe (sí, no tiene nombre) no pierde el tiempo expresando su afecto hacia su nueva exótica vecina.
Studio Seven se volvió loco con esto y es algo bueno o malo. Sí, lo entendemos, Studio Seven haciendo animaciones exageradas y las proporciones son lo suyo, pero el estilo puede apagar a algunas personas que quieren que una adaptación hentai se parezca a la original. Pero por otra parte, sólo un puñado de personas han leído el original, así que el estilo no es una gran queja y esto es sólo una excusa para rellenar esta entrada.
Tonari no Ie no Anette-san The Animation no es más que sexo sin parar y cubre algunos fetiches que a uno le pueden gustar. La verdadera queja es que no hay una historia real y un contexto claro para hablar. El héroe y Anette se juntaron en los primeros segundos del anime y procedieron a follar. Oh sí, a la mierda las bases y a por el puto homerun, semental! El héroe le pide a Anette que le muestre sus colinas de chocolate, Anette accede a regañadientes, y entonces cogen, y cogen, y cogen, y cogen como conejos de Energizer. No hay nada malo con el hentai sin contexto, pero si quieres construir un personaje y chicas de piel marrón, entonces tal vez quieras ver Wagaya no Liliana-san The Animation. Ambos shows son del mismo autor y la adaptación se maneja mejor que Tonari no Ie no Anette-san The Animation.
Episodios: 1+
Transmitido: Enero 2020 – En curso
Los humanos y los semi-humanos han coexistido y la sociedad nunca ha estado mejor, especialmente si eres un tipo con una polla del tamaño de un orco. Sin embargo, en los últimos años, la tasa de natalidad de los elfos ha disminuido y es necesario tomar medidas para resolver este problema tan grave. Los elfos son una raza exclusivamente femenina y dependen de otras razas para reproducirse, y para hacer las cosas socialmente aceptables, la sociedad humano-demi-humana está implementando el "sistema de asistencia", en el que los varones de varias razas son examinados para detectar genes saludables y emparejarlos con elfos femeninos a través de un sistema de emparejamiento. La princesa de los elfos, Iris Thea Eaderlindt, es candidata a la reproducción y su maestro, el héroe de la historia, es su donante de esperma.
Los fans de la serie original de doujinshi pueden estar decepcionados con la adaptación hentai por cambiar algunas cosas y el estilo artístico inferior, pero Enjo Kouhai The Animation sigue siendo genial con atractivos personajes femeninos, una animación decente, una historia sencilla pero fácil de seguir y escenas de sexo maravillosamente realizadas. Sí, lo entendemos, las historias de mestizaje y los elfos retratados como una raza totalmente femenina y que se reproducen por mestizaje son clichés y hay mejores ofertas como Youkoso! Sukebe Elf no Mori e, pero si ya has visto Youkoso! Sukebe Elf no Mori e, o quieres una experiencia más vainilla, Enjo Kouhai The Animation es muy recomendable. Y hablando de duendes… "Tasogare no Shou Elf The Animation" y/o "Yuukyuu no Shou Elf The Animation" del estudio T-Rex ¿para cuándo?

Episodios: 1+
Transmitido: Enero 2020 – En curso
Homura, Mia, Yachika, Rikana, Seijirou y Kippei son adolescentes despistados que están atrapados en una misteriosa y ruinosa mansión y para poder salir de sus laberínticos pasillos, necesitan encontrar al escurridizo profesor Yamanobe, que fue visto por última vez dentro de la espeluznante morada. Estos intrépidos adolescentes deben actuar rápido, o de lo contrario serán consumidos por un mal indecible que acecha detrás de las sombras.
Fukai ni Nemuru Oujo no Abaddon se centra más en el avance de la historia que en ahogarlo todo con escenas de sexo, por lo que ofrece un ritmo sorprendentemente fresco en comparación con el otro anime hentai que nos hemos acostumbrado a ver. En el fondo, Fukai ni Nemuru Oujo no Abaddon es un hentai anime de misterio y terror con un ritmo bastante decente para los espectadores interesados. En cuanto a las escenas de sexo, bueno, técnicamente hay una y es una escena de sexo lésbico de larga duración. Las otras dos escenas de sexo son muy cortas y duran alrededor de un minuto cada una: una es la chica siendo violada y luego despedazada por un monstruo con tentáculos y la otra es más bien una broma para el próximo episodio.
Sorprendentemente, la escena de sexo lésbico es la mejor parte del anime y no sólo la escena se ve bien y suena bien, sino que también proporciona el único desarrollo decente de un personaje secundario. Si el sexo lésbico no es lo tuyo, probablemente deberías esperar el próximo episodio porque el anime hentai en general está orientado a la fantasía del poder masculino, por lo que estas chicas serán violadas por el monstruo de los tentáculos eventualmente. Pero, ¿quién sabe? Tal vez el amor prevalezca al final y consiga un yuri decente que termine en un hentai no-yuri para variar.
---
Y eso es todo. Ahora que todos estamos confinados en casa, tenemos más tiempo para contemplar estas obras audiovisuales con más detenimiento.
¿Qué piensas de la lista de títulos de enero? ¿Agregarías alguna otra? ¿Cuál ha sido tu favorita del primer mes del 2020? ¡Ponlo en los comentarios!